Jules Quinn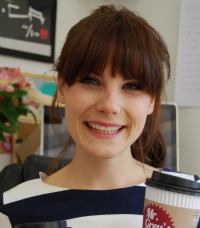 The *TeaShed
Graduate of Northumbria University
Accounting and Finance
Selling tea to Japan
I guess making my own money started at a young age: I made and sold bracelets, did some catering and ran under-18 club nights. I loved doing things like that and knew I wanted to run my own business one day, I just didn't know what. After a year studying languages at a nearby university, I left as it really wasn't for me. Then I found the Fashion Marketing course at Northumbria. It combined developing you as a designer with equipping you to set up a business – and all close to home in the North East.
My placement year was tough but I think that you learn more when things are hard. Placements are usually unpaid and draining and I had to get another job to afford London rent. During my internship I had to make lots of cups of tea even though at the time I didn't drink it. But while in the supermarket stocking up for the office I realised there was a limited variety of quality teas so it got me thinking. Back at Northumbria I started my research using sketch books and a whole collection of tea related ideas.
It was in my final year project – half dissertation, half business plan – that The *TeaShed began to take shape. I decided "Right, this is the kind of product I want to go for." Our tutor Fiona was amazing – she used to work for a design agency so she really knew her stuff. She helped me develop my ideas in our regular one-to-one sessions, advising me about design and also on the retail side about things like pricing, mark-up, and turnover. I would definitely not be where I am today without what I learned on my course. I learnt a lot about design and business and I had time to fully research and develop my idea and design skills. As a result the products are so much better.
Fiona also encouraged me to enter Northumbria University's business plan competition where I met Graham from the University's Enterprise Team. I won the £1500 prize and was then entered for the regional competition winning another £5000 – the first bit of funding for The *TeaShed.
I thought, "Wow. This is it. This is going to work."
By the end of my final year I'd done my research, sourced my tea, run tasting sessions, designed my first products and was ready to go. So I went straight to Fenwick Department Store and asked "Who is your buyer?" I'd heard they were supportive of small businesses and I love that they're based up here. And they took my tea straight away. I didn't think that what I was doing was "big" or "ambitious", it was just the most logical next step.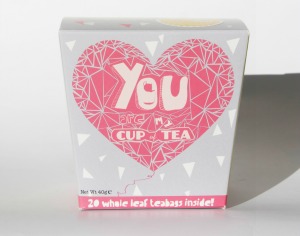 That was just the beginning. Late one night, not long after launching, I was replying to some email enquiries. When I opened one message and saw it was from John Lewis I started running round the house yelling "It's John Lewis! It's John Lewis! It's John Lewis!" It was quite scary though as they plan so far ahead. We had to spend every penny we'd made so far on stocks of tea knowing that they might have only taken a little bit in the end. I do sometimes think it would be nice to switch off one weekend but it's exciting seeing the business grow and working with distributors in Europe, the Middle East, Russia and even Japan.
Graham from the Enterprise Team keeps in regular contact, checking if I need help; if I do there is so much support available including marketing advice, accountants and solicitors. And now it's great to go in and talk to students at Northumbria, and to be in a position to take on interns to help them develop their design skills. I am about to employ some graduates as well; give them some experience, keep them up in the North East and support them if they want to start up their own businesses.
When I was younger I used to tell my mum and dad that I would make a million by the time I'm 25. Although I won't have personally have profited by that amount by then, the company should be worth it. I guess that's pretty cool.
Connect with Nacue

t: @nacue
f: https://www.facebook.com/nacue
e: info@nacue.com
p: 020 7749 3746


About Nacue

Nacue is a non-profit with a mission: to build the most enterprising generation ever known. We're awakening the entrepreneurial potential of students and graduates all over the UK.