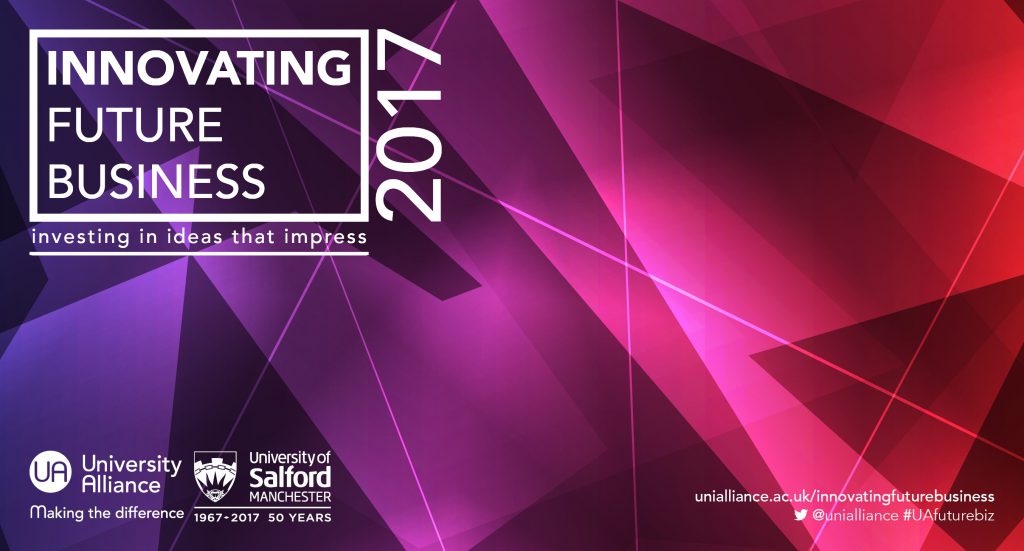 University Alliance is pleased to announce Innovating Future Business – an enterprise competition encouraging innovative, forward-thinking business ideas, open to current and former students of participating institutions across the University Alliance group.
What is Innovating Future Business 2017?
The competition is part of the Innovating Future Business festival at the University of Salford, taking place on Wednesday 10 May 2017 at MediaCityUK.
Budding entrepreneurs will have five minutes to pitch their business ideas to a panel of judges for a chance to win cash prizes from a prize pool of £5,000. Entrants must answer questions from the investors, university staff and other industry experts to secure their investment.
This year's investors include: ANS Group; Cariocca Enterprises; Marketing Signals; Wakelet; and Web Applications UK.

The investors will be looking for a proposal for a business or start-up product or service that demonstrates a viable business with a low cost of entry, evidence of sound market research, and crucially, an innovative idea with the 'wow' factor.
This is a great opportunity for participants to gain real-life experience. All entrants will receive advice and feedback on their ideas. Watch students pitch for investment at last year's Creative Entrepreneur event held by Salford Business School here, and read how the competition has helped previous winners Vinejuice.
Who can participate?
The competition is open to current students and alumni of Alliance universities, in all subject areas – entrants do not need to be studying a business-specific field but should have a good understanding of what is needed to launch their idea.
Entrants are encouraged to view their business idea as the 'real thing' and not a theoretical idea. The personality of the founder/co-founders is also an integral part of the final decision – this is something that will come through during the pitch.
Alliance universities participating in Innovating Future Business 2017 are:

How participating universities can submit entries
Universities participating in this year's competition may submit one entry to pitch a business idea at Innovating Future Business 2017 on 10 May 2017. Entries can be made up of an individual or group, and the proposed business idea must belong to at least one of the entrants. Entries must be selected by Friday 24 March 2017.
Universities may choose how they select their entry to the competition. Please fill in and use the poster contained in the competition media pack to promote the event and direct students to your Enterprise or Events lead working on the competition.
Each entrant will be required to complete the Information Form in the competition media pack, and agree to the competition rules and regulations. Please submit forms to Joshua Hastings, UA Communications Officer, by Friday 24 March 2017.
Entrants will be pitching at the Digital Performance Lab at MediaCityUK in front of an audience. We therefore encourage universities to prepare their students ahead of the event – see Salford's advice on pitching for investment here. The investors are also keen to help prepare participants ahead of their big pitch. Contact Joshua Hastings for more information.