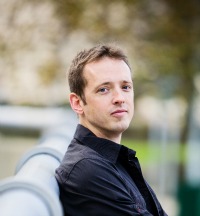 Distant Future Animation
Graduate of the University of Bradford
Computer Animation
Stick with what you love
A few years ago, while I was watching Monsters, Inc with my daughter Amber, I had an epiphany: "animation – that's what I want to do." My first degree was in computing but animation had suddenly captured my imagination and now I was really excited. I knew that to get the best start for myself I had to go back to university, so I enrolled at the University of Bradford for a Masters in Computer Animation.
University was completely different the second time round. I put everything into the course and after working solidly for 12 months, I gained a distinction and my final film won a BBC award! I thought that was my golden ticket but it wasn't quite that straight forward. I had some of the animation skills but I didn't know how to be a freelancer.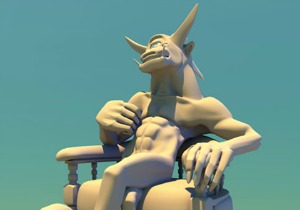 Then I met Teresa. She worked for Think Business, the University of Bradford's business support service. I was over the moon to be accepted onto their intensive 12 month program. Think Business gave me office space, a computer workstation along with all the software I needed, and there were others in their first year of business who I could learn from. Not only did I learn about limited companies, how tax returns work and have access to legal and accountancy services but I had regular meetings with Teresa to discuss how I wanted my business to develop and what I needed to get there.
One big thing I needed was clients so Think Business put me into Venturefestwhere I had a stand, met others in the industry and hundreds of people took information about my business. Even so it took some time to start making enough money. I decided to put the Think Business programme on hold and to get a part time job as an invoice administrator stuffing envelopes for a while, to pay the bills.
But I was determined not to throw away all the time and effort I'd already put in, so when I got a call to do a green-screen filming job I jumped at the chance. That was just before Christmas 2 years ago and with another bit of work booked in for the following January, I took a risk and got rid of the part time job to put more time into animation and took up Think Business support again. This time around I knew how fragile a start-up can be and it made me value everything I got from them even more.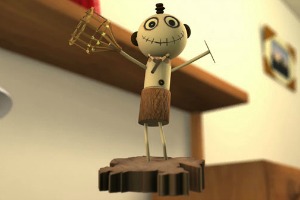 The risk paid off. Soon after, I got in touch with another animator, Steve. He came to work for me through a funded placement scheme. We worked well together so I suggested we set up a studio. It was then 2 years since I'd graduated and Distant Future Animation Studio was born. Our first office was pretty basic but it was ours. It was slow to begin with but work started coming in for companies like RBS, Mercedes and Conway Digital Arts festival where we got to see our animated film about the Welsh legend of the Afanc projected 200ft wide and 60ft tall on the side of Conway Castle in front of 11,000 people.
This year, demand is growing and we're now getting repeat work. There's more than Steve and I can do between us so we've brought on more people to help us meet demand. Funded schemes, through Job Centre Plus and the now defunct Future Jobs Fund, made it a lot easier to bring people on board. We also set up our own voluntary learning placement aimed at students and graduates. We ask them what they want to get out of the placement – such as improving character animation skills – then look at upcoming projects to see if we can create an opportunity that would benefit them. The placements are carefully structured and they've been really successful. There are now four of us working full-time doing visual production and others working part-time and freelancing. I get a lot of satisfaction creating paid opportunities for the people who work with us.
We're at a really exciting point in the business now: we have just incorporated as a limited company; we've hired an administrator and an accountant to free up my time to do more creative work; and we have enough people to do commercial work as well as developing our projects. It's amazing to think that we've built all this from scratch and are aiming to become one of the premier computer graphics facilities in the country and – one day – why not the world?