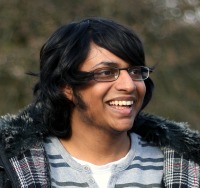 Founder: THAT Creative
Graduate of the University of Huddersfield
Product Design
Start-up? Why not?
I'm quite technical and I like computer "things". I loved design at school and I'd always done a bit of DIY with my dad. Like him, I'd go to the ends of the earth to figure out how to fix something rather than buying a replacement. I love getting a product to the prototype phase – going from a sketch to a computer model, to actually having it in your hand – then testing the prototype to breaking point and figuring out new ways round the problem to improve it.
I didn't actually set out to start a business. It came about almost by chance out of a friendship between James Whitfield and myself along with 3 other designers during our final year of Product Design at Huddersfield. We had begun to look for jobs when Pete, our business lecturer, talked about business start-ups. We realised that we had complementary design skills that we had used in projects together on our course and so we thought: "Instead of each of us working for different product design consultancies, why not come together and start our own?"
Deciding to start a business was actually quite easy, coming up with a name was much harder. We started with Pie and Gravy – we were having lunch at the time – and a whole load of other names. Eventually we managed to agree and THAT Creative was born.
We had design skills and knew a bit about starting up from our business lectures. But we couldn't have figured out how to set up our business properly without help. That's where the Activ8 scheme run by the Business Mine at the University came in. We went to one of their talks and met Kelly and Phil who suggested that we put our ideas into a written proposal. So we did and ended up pitching successfully to an expert panel who accepted us onto the scheme.
Activ8 has been brilliant. They showed us how to write a business plan; how to form a partnership – with all the legal advice to make sure it was set up properly; they gave us office space, networking opportunities with other start-ups and some initial funding. It's such a wealth of knowledge and experience to tap into. In DIY they say you should know a plumber, an electrician and a builder; if you are starting up a business, I say you should know a lawyer, an accountant and a business adviser. Even better if you can get all of them free through your university.
After graduating, we had the opportunity through our course to showcase our work at New Designers 2011 where we met Sorcit, a product-to-market company in need of designers. They gave us an initial test product and we developed a good relationship with them resulting in lots of repeat business, designing collapsible watering cans for the garden to hydroponics systems and even medical instruments. It was great.
But about eight months in, the work suddenly dried up. I'd Skype the others and ask "Have you got anything?" "No, you?" "No." It was hard. Fortunately it was drilled into us at university "You can have a great product but you won't sell it unless you know your target market." It was a "heads together, post-its out" moment. Staff at the Business Mine really helped us get down to the details of specific markets and particular companies to contact. We came up with these little packs to hand over to potential clients – it is much better if you can meet them in person rather than just sending them emails. Then the work started coming in thick and fast.
Work does take over a bit when you have a project on the go but I much prefer being busy. One minute you're focussing on the technical detail of a product, the next you're out meeting clients, talking through their ideas, then it's back to the design to make sure it functions beautifully.
We're only two years in, so it's early days. I still get surprised when people ask for the Director of THAT Creative Ltd and I think "Wow – that's me." The aim is to grow so that we have enough work for all five of us to come on board full-time. We'd really like to take on a few interns too. We've had to turn some down already as we're not big enough… yet.
Maybe next year!