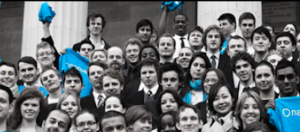 Six Alliance universities are to host an exciting new research project being led by the National Consortium of University Entrepreneurs (NACUE) and Lloyds Banking Group on 'Developing Entrepreneurial Students & Graduates'.
University of Plymouth, University of Glamorgan, Nottingham Trent University, Manchester Metropolitan University, Teesside University and University of Huddersfield were selected to host the 'National Road Trip' because of their leading business incubators.
Supported by the University of Hertfordshire, part of University Alliance, the research project will engage with students and graduates so as to understand their views on enterprise education and business start-up support available through university incubators. The consultation and research exercise will be the largest ever conducted within the UK.
Libby Hackett (nee Aston), Director of University Alliance, welcomed the announcement saying:
"Student and graduate entrepreneurs are playing an increasingly important role in the growth of the UK's innovation-based economy.
"We are delighted that NACUE will be running this project at Alliance universities. It is not surprising that Alliance universities have the UK's leading business incubators. Our approach is about maintaining a revolving door with business to help empower students to become innovative and thoughtful, professionally accredited graduates with the right skills to start their own businesses."
The National Road Trip will run over two weeks in late May to early June and findings will be presented at a major economic policy conference in London in September. Through the online survey and interviews with incubator managers, the research will seek to understand the extent and value of services being delivered to student and graduate entrepreneurs through incubators. Focus groups with students and graduate entrepreneurs will then seek to understand their views on enterprise and entrepreneurship and how they wish to receive enterprise education and business start-up support within universities.
Students wishing to get involved in a Focus Group can apply using contact details below.
Finally, at each incubator NACUE and Lloyds Banking Group will host an Enterprise Forum that brings together students, educators and the local business community to discuss the changing relationship between education and business, and how best the local business community can engage universities and students to better support enterprise education and young entrepreneurs. The Enterprise Forums will include local MPs, representatives of Local Enterprise Partnerships (LEPs) and local business networks.
Entrepreneurs and business owners wishing to get involved in an Enterprise Forum can apply using contact details below.
Commenting on the announcement, NACUE Policy Director Matt Smith said:
"With youth unemployment at a record high and student expectations set to rise with increasing tuition fees, it is critical that we engage students' views on how they wish to receive enterprise education and business start-up support within universities.
This is the largest consultation of its kind ever undertaken and it will add significant value to the wider discussions taking place within universities and at a national level, around how best to improve the student experience and support nascent entrepreneurs."
John Brightwell, Head of Customer Acquisition, Lloyds Banking Group Commercial Direct
said:
"Helping more businesses to start up and grow is fundamental to the UK's continuing economic recovery. Key to that is understanding the needs off entrepreneurs and the support they require. It is hoped that this project will lead to the improvement of enterprise-focused education and support at universities to match budding entrepreneurs' needs and that as a result more will progress with their new business idea and turn it into a reality."
Director of the Centre for Innovation & Enterprise at the University of Hertfordshire, Nigel Culkin said:
"This project provides us with a great opportunity to gain a greater understanding of what the graduate entrepreneur needs, wants and expects from a University Incubator. Outputs from each Enterprise Forum will deliver a rich insight in to how universities and local businesses should collaborate to increase graduate employment and retain graduate entrepreneurs."
// Ends //
For more information about the project contact Matt Smith Policy Director at NACUE – matt@nacue.com or 07929 102 507
Tour Schedule
31st May University of Plymouth
1st June University of Glamorgan
3rd June Nottingham Trent University
6th June Manchester Metropolitan University
9th June Teesside University
10th June University of Huddersfield
About University Alliance
University Alliance is a group of 23 major, business-engaged universities committed to delivering world-class research and a quality student experience around the UK. They are universities without boundaries: delivering economic and social growth through close links with their research, students and staff and the world around them – locally, nationally and internationally. With representation right across the UK they educate over 25% of all UK students, with large proportions of international and post-graduate students.
Alliance universities: Aberystwyth University, Bournemouth University, University of Bradford, De Montfort University, University of Glamorgan, Glasgow Caledonian University, University of Hertfordshire, University of Huddersfield, University of Lincoln, Liverpool John Moores University, Manchester Metropolitan University, Northumbria University, Nottingham Trent University, Open University, Oxford Brookes University, University of Plymouth, University of Portsmouth, University of Salford, Sheffield Hallam University, Teesside University, University of Wales Institute, Cardiff, University of Wales, Newport, University of the West of England.
About NACUE
The National Consortium of University Entrepreneurs (NACUE) is a fast-paced, grassroots charity that stimulates university enterprise by supporting, connecting and representing enterprise societies, enterprising students and student entrepreneurs in Universities across the UK. Founded in 2008 by Victoria Lennox (former President of Oxford Entrepreneurs) during a meeting of 12 leading enterprise society presidents and launched in May 2009, NACUE now engages over 70 university enterprise societies across the UK, supports over 85 universities in stimulating student-led activities and represents the views of over 40,000 enterprising students to policy makers in all levels of Government, Industry and Education.
Recognised by Real Business Magazine as one of the 'Champions of Entrepreneurial Britain' and by the World Economic Forum as a 'global best-practice in enterprise promotion', with its Founder recently being awarded the Queen's Award for Enterprise Promotion for her work in building the organisation, NACUE is a central point of contact for some of the most promising and enterprising graduates, and some of the most exciting earlystage start-ups in the UK.