Nottingham Trent university, a member of University Alliance, has been named the UK's greenest university in the People & Planet Green League table.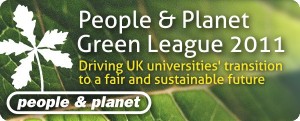 Nottingham Trent University takes the top spot this year for a second time, with strong scores for its environmental & carbon management policies as well as renewable energy and excellent recycling rates.
Alliance universities take up many of the top 20 places, including: Nottingham Trent (1st), Plymouth (4th), Bournemouth (5th), Hertfordshire (8th), Bradford (14th), De Montfort (14th), Huddersfield (14th), Manchester Metropolitan (17th) and UWIC (20th).
Professor Neil Gorman, Vice-Chancellor of Nottingham Trent University, said:
"We take our responsibility for reducing our environmental impact very seriously, and our position at the top of the People & Planet Green League shows that. I'm very proud of all the hard work and commitment from our staff and students that has helped towards this achievement and we will do all that we can to maintain our reputation as the most environmentally friendly and ethical university in the UK."
Libby Hackett (nee Aston), Director of University Alliance, said;
"This is great news for Alliance universities and is the result of a deeply held commitment to social responsibility. The Alliance approach, both in terms of the way they are run and their teaching and research, is about running efficient and effective institutions that focus on the really important economic, social and global issues we face. We welcome the People and Planet's work in this area to keep the environmental impact of universities to account."
–Ends–
Notes to Editor:
View the full 2011 league table results here
Case studies from Alliance universities:
Nottingham Trent (1st)
Ucycle Nottingham is a 2 year joint project with Sustrans, Nottingham City Council, University of Nottingham and Nottingham University Hospitals with the objective to increase cycling among staff and students. Targets set include a 50% increase in number of trips made to university by bicycle by staff and 100% increase for students.
This has led to the launch of the Ucycle bike hire scheme and the Cycle to Work scheme, improvements to cycle infrastructure and projects to support new and existing cyclists. The project is due to end in July 2011 but our last travel survey reports that we are meeting our targets.
Headlines of the project include:
230 Staff and student bike hire scheme live

Cycle to work scheme for staff

Approximately £200k cycle infrastructure investment

Free bike maintenance sessions
Plymouth (4th)
When HEFCE funding for our Centre for Sustainable Futures finished in July 2010 we challenged the view that it could only be sustained with continued additional funding. Our mission was to embed and develop its work but within existing structures and operations. With sustainability enshrined as one of the key ambitions within the Corporate Plan and under the leadership of Professor David Wheeler, the newly appointed Pro Vice Chancellor for Sustainability we developed atri-cameral structure:
the Institute for Sustainable Solutions Research(ISSR)

the CSF within the Teaching and Learning Directorate(T&L)

the Office of Procurement and Sustainability (OPS)
Each with its own Director who jointly form the Sustainability Executive, we have delivered:
200 active sustainability researchers with 6 key research centres

Over 2000 modules across 81 programmes now withsustainability content

Continued pedagogic research around sustainability education

Opportunities for student learning projects and placement within OPS

Sustainability embedded in our governance structure

Evidence based sustainability performance

Revision of policy and strategy based on our research centres, e.g. Space Utilisation, Food and Travel Policies

Involvement of a wide range of staff and students in projects, e.g. carbon management

A holistic approach to sustainability within our operations from buying stationery through to major capital investment
Sustainability is now an integral part of how we make decisions; balancing the tensions across the triple bottom line. We have built on the threads drawn together by the CSF and they are now woven into our institutional fabric.
Bournemouth (5th)
Developing Leaders for Sustainable Development: Enabling Behaviour Change Project
Bournemouth University successfully secured funding from HEFCE's Leadership Governance and Management (LGM) Fund for a small-scale project to broaden leadership support for sustainable development.
The joint project (BU Centre for Global Perspectives and Environment & Energy Team working with the University of Sussex) involves working with Board members and senior management teams at two distinctly different institutions and cascading learning to two further HEIs (including the Arts University College Bournemouth).
Workshops are being provided to raise awareness about the broad sustainable development agenda with a specific focus on leadership behaviours to embed sustainable development and achieve challenging carbon reduction targets.
Board members and senior managers will have the opportunity to increase their knowledge of sustainable development; explore the breadth of concerns; identify their role in supporting culture change; and develop approaches to securing commitment to carbon reduction and sustainable development.
External facilitator, Ann Finlayson (Director of SEEd) is contributing her experience as a Commissioner for Education and Capability Building for the Sustainable Development Commission, and bringing to the project her expertise in leading workshops for senior staff including Government ministers.
In their feedback, HEFCE highlighted that it was a highly competitive field and the panel was particularly impressed by the proposal, which one assessor commented was a "valuable small scale project, capable of making a positive impact more widely on the sector".