Universities UK (UUK) launched their latest report 'Supporting a UK Success Story: the impact of university research and sport development' at a star studded Parliamentary reception this week as part of Universities Week. The report looks at some of the many ways in which university research is helping Team GB ahead of London 2012 and laying the foundations for future sporting success. Nicky Morgan MP, who hosted the event at the House of Commons, spoke of how the report successfully "raised awareness of the great part universities play in the sporting success of the UK."
"Report shows how universities contribute to national life in a various sets of ways." David Willetts MP
So what does the report look at and is the role that universities play really that significant? Four areas of research are explored; technology, health and wellbeing, design and sport development and participation. Researchers are developing new and complex technologies as well as applying traditional engineering techniques to sport. Bournemouth University provide just one example of the work that is taking place. The university is investigating the use and perception of prosthetics used in competitive sprinting events. Their work aims to develop and investigate how this type of technology performs and how its impact can be measured.
Competing can take its toll on the mental as well as physical wellbeing of an athlete. Research is increasingly being used to help athletes maintain their health and wellbeing so that they can perform to the best of their ability. Research by Northumbria University has found that by deceiving the brain, competitors can see up to a five per cent gain in sporting performance. Trained cyclists were asked to race against an avatar on a computer screen which they believed was moving at the rate of the cyclist's personal best. However, the avatar was actually going at a speed one per cent faster than the cyclist's fastest time. Research in this area is helping give UK athletes a competitive edge.
 "University sport breaks down social and ethnic barriers." Ed Smith, Chair of BUCS
Good design is an essential part of any piece of sports equipment used by athletes.  Teesside University have contributed successfully to this area by developing an innovative new product to support cyclists who face the problem of cold hands for cyclists. Breezeblockers offer a range of aerodynamic bike shields designed to provide protection for hands and feet in cold, wet and windy weather. This example of excellent design is helping athletes to compete to their best ability in often difficult circumstances.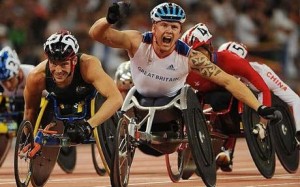 Finally in sport development and participation. UK universities are home to elite athletes and also focus on increasing participation, generating new opportunities and providing the student experience though sport. 'UP for Sport' is a coaching scheme run by the University of Portsmouth, which provides opportunities for university students to share their sporting expertise with the local community. This is by no means unique. Our universities are at the heart of communities and their engagement through sport is something which contributes to the lives of many.
"Research sounds specialist but if affects everyone."  Rick Ryland Chief Executive, AHRC
Nicola Dandridge, CEO of UUK, is right when she says that the "Olympic and Paralympic games provide real impact to the work of our academics and the long term sustainability of research collaboration." Universities are playing an integral role in London 2012 and the long-term development of sporting success. This report is a fantastic insight into the positive work that is taking place. The link between UK universities and sport is one in which we should be proud and can lead us to victory this summer.
You can find more about Universities Week at the official site.
#UniWeek