Built on Teesside University's world-renowned expertise and reputation in digital media and digital technology, DigitalCity Innovation (DCI) is creating record numbers of high growth businesses and jobs.
Since 2008 DCI has directly created almost 200 companies and at least 265 jobs in sectors including computer animation, web design, advertising, nanotechnology and forensic science, among many others.
Through a unique programme of fellowships, partnership working and tailored placements, DCI directly puts £20m back into the economy each year.
What is DCI?
Led by Teesside University, DCI harnesses ideas, graduate talent and academic expertise to generate new digital businesses, connect business with research and address the digital challenges of the future. It's supported by the European Regional Development Fund.
Laura Woods, Director of Academic Enterprise at the University, said: "We've looked closely into what the Tees Valley and wider North East need in terms of skilled graduates, and which areas of business are growing.
"What is clear is that digital technologies are growing hugely in the region but previously there hasn't been an infrastructure to support that growth. We're working with partner organisations to deliver a support structure that's second to none for new and growing digital companies.
"The figures show that this approach is working. There's now a cluster of great digital businesses in the region, with talented graduates being produced to work in these businesses."
The Fellowship scheme
Central to the DCI initiative is the DigitalCity Fellowship scheme – a highly innovative programme that allows talented graduates from a range of disciplines to turn business ideas into reality. DCI fellowships give a £4,000 business start-up grant, business training and mentoring from industry professionals, as well as round-the-clock access to specialist software and equipment in fellowship labs and film and sound studios.
Anthony Roderick, who graduated from Teesside with a master's in computer games art, co-founded Rubix Studios as a DigitalCity Fellow in 2010.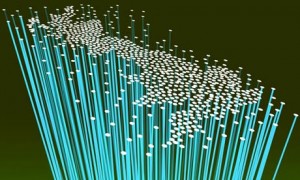 The company, which specialises in bespoke software and smartphone applications, has taken on an extra four employees this year and is expanding to create a second business, Landslide Studios, which Anthony anticipates will recruit up to 14 people in the next 12 months.
He said: "DigitalCity Innovation at Teesside University has supported me through a DigitalCity fellowship and I have used their industrial placement scheme to recruit talented individuals to work for Landslide.
"Digital is a growth industry in this region, due in no small part to the work of DigitalCity Innovation and the support it gives businesses from the initial start-up to expansion."
Industry placement scheme
The industry placement scheme which Anthony has used to his advantage offers support to small and medium-sized businesses in the North East – not just those in the digital sector – to enable them to place a graduate employee in the digital field.
The scheme provides a recruitment service along with a 50% contribution towards salary costs for 26 weeks.
Coatsink Software, based at Middlesbrough's landmark Boho One building  – home to many high-growth digital companies –  also used the scheme, to employ digital artist Nick Peacock.
Managing director Tom Beardsmore said: "We chose to take part in the DCI industry placement scheme primarily because it provided the perfect support, a company of our size needs, to take on new staff.
"We got valuable help with the recruitment process, which can be extremely costly, together with the confidence that we'd get a skilled employee.
"We've always had a great relationship with DCI and this scheme cemented that. It helped us take on a talented new artist and develop his skills along with our abilities and scope as a company."
Together with the Fellowship and industry placement schemes, DigitalCity Innovation offers access to knowledge transfer services for the digital sector – enabling academic experts to work with businesses to enhance performance and implement innovative solutions. A programme of industry workshops helps keeps business at the cutting edge of technology, while DigitalCity Communities works with third sector and community organisations, to enhance life prospects through digital technologies.
In DCI's state-of-the-art Phoenix Building on the Teesside campus, companies seeking to strengthen their links with the University can lease high quality offices.
For more information about DCI visit www.digitalcityinnovation.com.
DigitalCity Innovation is part financed by the North East European Regional Development Fund Programme 2007 to 2013. The Department for Communities and Local Government is the managing authority for the European Regional Development Fund Programme, which is one of the funds established by the European Commission to help local areas stimulate their economic development by investing in projects which will support local businesses and create jobs.