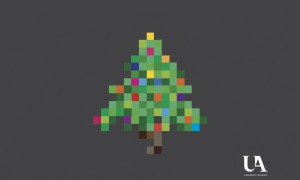 As we look back on another year we are, as ever, grateful for your support and the opportunity to work with you to promote and advance higher education. You can read Libby Hackett's, our Chief Executive, blog looking back at 2012.
We remain ambitious for the future of UK higher education and look forward to continuing to work with you, and the exciting opportunities that await us, in 2013.
With best wishes, Libby Hackett and Team Alliance.
Image By Alexander Scott
This year we ran a 'Futures' themed Christmas card competition for students and staff at Alliance universities. The winning entry was designed by Alexander Scott, a student on the BA (Hons) Graphic Design course at Teesside University.