The University of Lincoln has built an international reputation as one of the leading centres for conservation and restoration expertise in the UK.
Lincoln Conservation includes a commercial consultancy, Crick Smith, which specialises in the conservation of the decorative interiors of historic and listed buildings, undertaking pioneering historic paint analysis to uncover the truth behind previously concealed interiors. The consultancy, with support from expert academic teams and student conservators, has been involved in the restoration and renovation of more than 500 historic properties for a range of high-profile clients, including English Heritage, National Trust and Historic Royal Palaces over the last 40 years and, recently, the £150 million renovation of the St Pancras Hotel in London.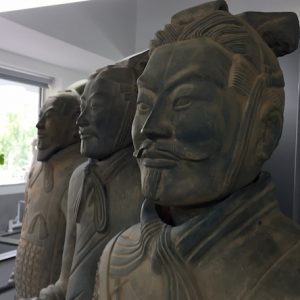 The University of Lincoln offers conservation programmes at undergraduate and postgraduate level and has a growing team of PhD researchers. With access to purpose-built specialist facilities, students work alongside academic researchers and commercial experts, combining practical skills of conservation with scientific investigation and analysis.
For example, a team of staff, students and alumni worked with World Monuments Fund Britain and Coventry Cathedral to restore and put back on public display surviving pieces of medieval stained glass removed during World War II. Similar painstaking work was required when the Royal Naval Museum in Portsmouth commissioned the University to investigate the historic paint finishes applied to HMS Victory, which revealed that the original colour of the ship was quite different to what many had imagined.