Middlesbrough Institute of Modern Art (mima), one of the UK's principal visual art museums, transferred from Middlesbrough Borough Council to Teesside University in 2014.
With this change came a new vision inspired by the idea of 'the Useful Museum', focusing on art as a tool for social change.  Mima has shifted from exhibition making and collecting to public programmes, education and community action.
Recent projects included Localism, through which researchers worked with the public to create a crowd-sourced history of culture and its role in the building of the town and its identity.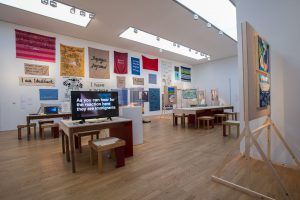 Another project, Teesside World Expo, responded to the closure of the Teesside Steelworks. While archivists and historians explored ways to celebrate the past, Teesside University-founded start-ups pointed the way to a new future economy for the region.
Ongoing live projects with migrants and asylum seekers offer a counter to the negative narratives around migration, whilst supporting these groups to contribute to a better society.