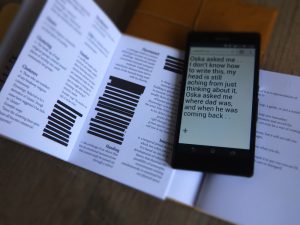 A partnership set up to help universities and the creative industry work together has resulted in more than 50 collaborations.
The REACT Hub – a partnership between UWE Bristol and the art and cultural cinema centre Watershed along with the Universities of Bath, Bristol, Cardiff and Exeter – was awarded £4 million over four years by the Arts and Humanities Research Council (AHRC).
REACT established a dynamic network of creative practitioners, academics, businesses and other creative organisations to work on innovative products for sectors including heritage, publishing, documentary and children's products.  It funded over 30,000 hours of work in 53 collaborations between 73 academics and 55 businesses.
Within its second tranche of projects – Books and Print – REACT funded Dr Tom Abba of UWE Bristol to work with the artists' collective Circumstance to create a new kind of book.  A hybrid digital/physical product – These Pages Fall Like Ash – launched three months later. Dr Abba and Circumstance went on to collaborate with award-winning writers to produce its next product, a Volume of Circumstance.
In 2016, this research trajectory was awarded an £800,000 AHRC grant for three universities – UWE Bristol, Bath Spa and Birmingham – to continue this work through the Ambient Literature project.
The project will commission original pieces of digital writing from cutting-edge writers and technologists, and curate a programme of research seminars and public events. It will also produce additional materials including a 'Designing Ambient Literature' guide to impart the project's findings to the wider creative community.