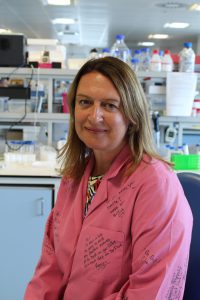 The latest in our series of blogs for World Cancer Day 2018 looks at the work of Dr Melanie Flint from the University of Brighton to investigate the relationship between stress and cancer.
Inspired by a close family friend who battled metastatic breast cancer I have focused on investigating the effects of stress on cancer progression, cancer immunology and the efficacy of cancer drugs. Stress hormones are highly potent and can interact with almost every cell in the body including normal, cancer and immune cells.
Working with colleagues at the University, at Sussex Health Outcomes, Research & Education in Cancer (SHORE-C), and the Brighton and Sussex University Hospitals NHS Trust, I am investigating the role of stress in determining the outcome of breast cancer treatment.
This vital information will enable cancer clinicians to create bespoke treatments for all cancer patients; making them more effective. I am encouraged by early laboratory data which suggest that stress-relieving medications may increase the efficacy of chemotherapy and improve recovery. Managing stress and anxiety at an early stage could become routine.
I am also interested in how stress hormones can induce DNA damage to negatively impact drug treatments. One probable mechanism of DNA damage is the production of Reactive Oxygen and Nitrogen Species.
This hypothesis led to recent grant successes with the Breast Cancer Research Trust and Cancer Research UK.
I'm passionate about mentoring future breast cancer researchers leading a multidisciplinary team of post-doctoral scientists, PhD students and MSc students – all with the same goal – to establish a proven mechanistic link between psychological stress and cancer to improve patient outcome.