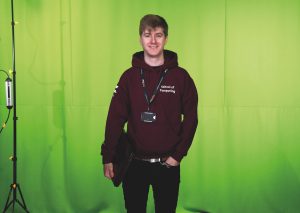 Teesside University
After working as a care assistant for six years, Tom wanted a different career. He decided to take up an apprenticeship in information technology, which provided him with an opportunity to gain the skills he needed in the field while gaining work experience and earning a salary.
Two years into his apprenticeship he knew he had to work towards a degree to build a career in IT. Tom chose to study at Teesside University because of the university's proximity to his hometown of Hartlepool and its good reputation. It was also one of the only universities to accept his IT apprenticeship.
Although he applied to study computer science, he was directed towards cybersecurity during his interview as it was more relevant to his interests. The course is providing him with opportunities to expand his skills in areas such as network scripting and data acquisition and security.