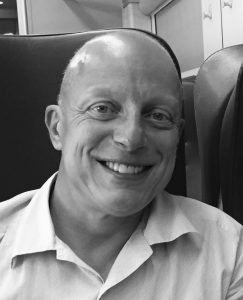 Sean Williams is in the second year of his PhD at Teesside University 
Throughout his professional career as an engineer, Sean Williams has been an advocate for life-long learning and helped his colleagues to continue to develop at work. So when the time came for him to return to full-time education to undertake a MEng in Instrumentation and Control Engineering at Teesside University Sean didn't hesitate. Following his graduation with a First-Class Honours degree, he decided to continue his research and undertake a PhD at Teesside University. 
We are moving away from larger fossil-fuelled power plants towards decentralised, more volatile forms of electricity generation. But these are less predictable and more volatile. New methods of demand response are required and Sean's response is exploring whether decentralised frequency control regulation could balance these demands. 
His research is one of the Teesside University Research Grand Challenges – Sustainable Environments. Notwithstanding the environmental benefits, his research aims to bring economic gain to demand-side prosumers (those who both consumer and produces a product) participating in a demand-response mechanism. Equally, on the supply side, his research will present an interesting proposition to system operators by developing new measurement and control systems to improve network sustainability.