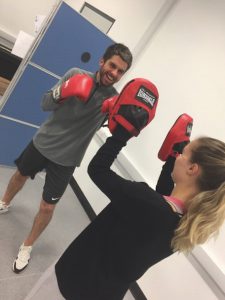 Naomi Burn is in the second year of her PhD at Teesside University 
High intensity interval training – or HIIT – is a type of exercise that, in its simplest form, involves brief repeated bursts of exercise interspersed with recovery breaks. As the name suggests, the bursts of exercise are conducted at a high intensity, but the intensity is relative to each individual person. That means that the exercise will look different in different people, depending on their fitness level. For some people "high intensity" could be power walking, for others it could be sprinting.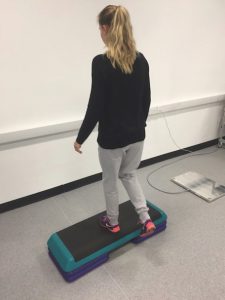 Naomi was attracted to researching HIIT because there is a strong scientific rationale promoting health and fitness through participating in HIIT. Much of the evidence to date however has been collected in laboratory-based studies and little is known about how acceptable or feasible HIIT may be in settings outside a laboratory, such as workplaces. Naomi's PhD will focus on developing and evaluating a workplace-based HIIT programme, which will be offered to employees in the North East of England. The design of the HIIT programme is based on feedback from employees in focus groups, to ensure that the programme is as feasible as possible and fits well into a working environment. 
The aim of Naomi's PhD programme is to assess if HIIT is a form of exercise that people are willing and able to engage with, in the community setting of a workplace, and if there are any impacts on various markers of health and fitness. By taking this form of exercise to wider community settings, she hopes to improve the health and wellbeing of a wider group of people.