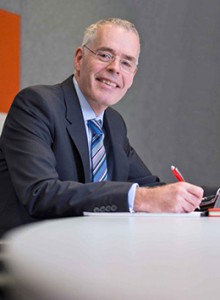 Peter Horrocks CBE
Vice-Chancellor of The Open University
Peter Horrocks took up the post of the sixth Vice-Chancellor of The Open University in May 2015. He also serves as Chairman of the Board for FutureLearn; a private company wholly owned by The Open University, which provides free online courses in partnership with over 50 universities and institutions worldwide.
He came to the OU after a long and successful career with the BBC spanning more than three decades. From 2009 to 2014, he was Director of the BBC's World Service, overseeing a global workforce of 3,000 staff. In June 2015 Peter was awarded a CBE for Services to Broadcasting in the Queen's Birthday Honours.
As Vice-Chancellor, Peter is the chief academic and administrative officer of the University, responsible for providing strategic leadership through his senior executive team, championing the interests of the institution at the highest levels with government, policy makers and funders, and ensuring the long term financial and operational sustainability of the OU.
Read more about Peter Horrocks here.