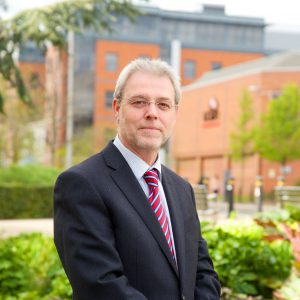 Professor Mike Thomas
Vice-Chancellor of the University of Central Lancashire
Professor Mike Thomas joined UCLan in 2014. A graduate of the University of Manchester, where he studied healthcare, he holds a Masters in Law from Liverpool John Moores University, gained a PhD from the University of Nottingham and is an alumnus of the Saïd Business School, University of Oxford. He carries out research into the area of compassion and kindness in leadership and explores management and leadership with emphasis on stewardship, values, and resilience.
Mike has served on several national committees, has led three social enterprise companies and continues to act as an advisor to third sector organisations and start-ups. An ex-submariner, Mike has worked on projects for many years which support military discharged service personnel to find new life and career opportunities. He works with a team of active ex-service academics and those with a special interest or specialism in the field of transition support, and is the Co-Founder of the College for Veterans and Emergency Services.
Professor Thomas is a Fellow of the Higher Education Academy, the Royal Society for the Arts and a Member of the British Psychological Society.
Click here to read a full profile.