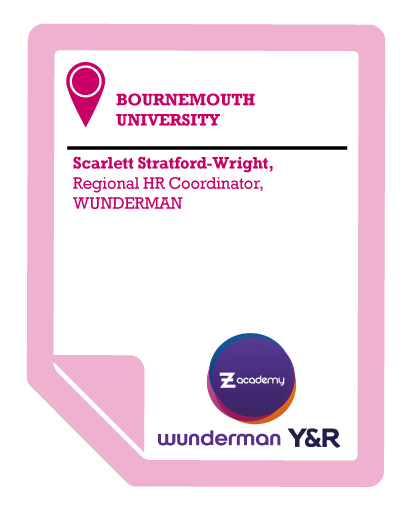 Wunderman is a big advertising agency that focuses on direct marketing and digital. We work with Bournemouth University primarily on the Z-Academy which is our international internship scheme and one of the main talent initiatives we have. It has three main aspects –we pay students, students work on real client projects (no photocopying or admin) and it's international – students can apply to any roles worldwide from account exec, data and social media to new business, knowledge exchange and project management. Since the programme launch in 2010 we've taken 761 students worldwide. In Europe, the Middle East and Africa (including South Africa) we have taken over 150 students.
We started working with Bournemouth University because we heard a lot of good things about the University and they offer lots of courses that are relevant to our business. We might even say that Bournemouth is our favourite university! One reason it's worked so well is the university team is really engaged in helping the students find placements, Bournemouth didn't charge us and offered considerable help and advice.
Prior to working with Bournemouth we'd had some really great relationships with universities, as well as some not so good. With some it was difficult to make initial contact and they were not very proactive in promoting our company or what we were offering to students. We didn't know what to expect from Bournemouth University but our first meeting was as guest lecturers to a group of advertising and marketing students so we got to talk direct to the students. It was a great help that we were talking to students interested in things relevant to our business and they already had a better understanding of who we were and what we did. The relationship has flourished since then.
So far we've taken 19 students from Bournemouth. Five of those have been converted to full time employees and some of them have gone back to university. We had one student doing her placement year with us. She worked in London for nine months and then finished it off with a three-month stint at our office in Singapore. We had another student who did a placement in Munich and is now working for the Nokia global team in London. All the students from Bournemouth University have been a great success, they are clued up before they join us so they can really hit the ground running.
We work with universities because students are the direct marketers of the future. They bring fresh ideas and talent and our existing teams can learn from them. I would definitely recommend working with Bournemouth University. The University is very focused on career development which is useful for us, from a business perspective and we've benefited a lot from our relationship: our Z-Academy scheme has grown and we've even taken on people we didn't have a role for because the students were so good.