Cardiff Metropolitan University

Tailored career guidance
"This e-lesson helped with where I can improve or need more practice in areas such as communication, team working, planning and organisation as well as how to go about improving these."

"I had to undertake research in my suitable field of employment and this furthered my knowledge immensely. This will have an impact on my future because when I do go to apply for… posts now, I will have a good understanding and solid base to work from."

"The lesson made me sit back and think: What is it I actually want from a job? What things are most important to me and why?"

Student feedback on Career e-modules
Your Career e-Module is an employability awareness and career development skills learning tool created by the Career Development Services team at Cardiff Metropolitan University.
The e-module takes students though 14 interactive exercises. Lessons take students from self-analysis through to identifying potential career options. Students can manage their learning on a self-directed basis as well as in a variety of blended-learning approaches, including group learning or as part of an individual coaching process.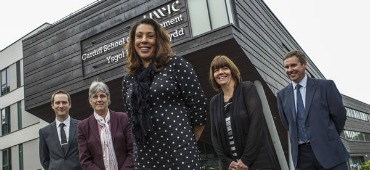 The e-lessons contain subject-specific examples and materials and are attuned to Cardiff Metropolitan students' needs and vocational areas. They cover: planning your career, job search, using social media for job search and self-promotion, work experience, skills and self-assessment, CV writing, application forms, interview skills, assessment centres and self-employment.
Recognising the different career opportunities available to students from different disciplines, specific e-lessons have been customised and integrated into Personal and Professional Development modules within the Schools of Sport, Management, Education and Health Sciences. Elements of the modules are assessed and link in to students' broader personal development planning and e-portfolios. Academic staff value the blended approach and found the in-depth modules a valuable addition to the curriculum. 2,500 students currently undertake these modules within their programmes of study, and due to their success this is planned to increase.
To find out more, visit www.cardiffmet.ac.uk