A more sustainable future for the aviation industry
Problem Solved: university research answering today's challenges
[icitspot id="4392″ ]
As well as adapting our economies and living arrangements to benefit the environment, universities are working with different industries that may be having an adverse effect on climate change.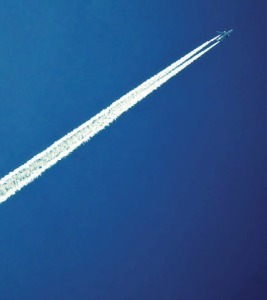 The aviation industry is having a significant impact on the world's carbon emissions and this trend is set to increase as more and more people travel by air.
With the industry growing, researchers at Manchester Metropolitan University's Centre for Air Transport and Environment (CATE) are investigating how existing airport infrastructure can be used in a smarter way through better environmental management. The aim is to enable the industry to grow, but in a sustainable way, meeting UK Government and EU targets. CATE's longstanding research in this area has developed alongside a partnership with Manchester Airport which has been able to put much of CATE's research into practice subsequently leading the way for sustainable aviation.
Effective environmental management requires the collaboration of the many stakeholders in the air transport industry: aerospace manufacturers, airlines, air traffic management providers, airports and, of course, the travelling public. The environmental management systems used at airports are unique, involving sometimes hundreds of different companies, all of different sizes and all with different and sometimes conflicting interests. CATE's work has investigated how all these partners work together to find the appropriate balance between operating capacity, operating costs and environmental protection. From leading in this research, CATE have been able to advise airports, airlines and air traffic management organisations in the UK and around the world on how to change their operations to reduce their environmental impacts.
Professor Callum Thomas, one of CATE's leading researchers said "The flight path into and out of an airport can affect the daily lives of tens of thousands of people. The air quality around an airport is influenced by millions of cars, tens of thousands of aircraft movements, generation of energy and handling of aircraft on the ramp. For climate change, while aviation is responsible for 2-3% of CO2 emissions each year from human activities, the proportion of people around the world who fly is tiny."
Successive governments have consulted CATE on air transport policy as world leaders in their field.
The disturbance caused by aircraft noise is the single most significant environmental impact associated with airport operations and has given rise to significant capacity constraints and operating restrictions at airports worldwide. New research by CATE, working with noise experts from across the world, has developed and trialled a new "community friendly" noise measure that local people understand and engage with. It is anticipated that this will be used by increasing numbers of airports across the UK and internationally.
With UK public interest in the aviation industry and its growth being such a highly¬charged political issue, successive governments have consulted CATE on air transport policy as world leaders in their field. With many important decisions needing to be taken by the UK Government about the future of the UK's air transport infrastructure over the next few years, CATE's work has never been more relevant or imperative.