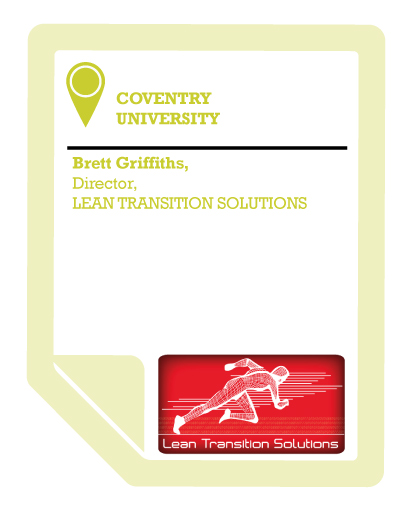 I know people think there is a gap between what you learn in university and in industry but that is simply not my experience. I used to work for a large American organisation a number of years ago and was sent to Coventry University to do my masters and MBA. After graduating I then continued in business and I never would have got to the levels I got to without those qualifications. The University did a really good job. The courses I took were relevant for the industry I went to work in.
Lean Transition Solutions is my own business. We deliver training and consultancy to organisations that want to improve and remove waste from their business. We review company procedures and train staff in modern processes and techniques that allow them to be better, faster etc.
There are not many universities that deliver the practical courses I am looking for. I chose to work with Coventry because the courses matched what my industry needed.
I have built up a strong relationship with Coventry University. I see it as good for my business but I also enjoy delivering presentations to students. I have spoken as a guest for four years in a row at Coventry's Global Leaders Programme on businesses and leadership practices around the world to inspire and help students.
It's been good for me personally, for the students, and for marketing my business. Longer term I suppose, if these students go into business they may remember me back in the day when they were at university, because these people are from all over the world and you never know where that might lead. It's win-win basically.
Before I started working with the university I expected I would have a relationship whereby they could maybe help me on accreditation of courses that I needed for my business, that I would have a relationship with the University that was just based on training. However that relationship has grown and developed with a number of different people within the University and as such I am able to offer the University more and there is more interaction between us.