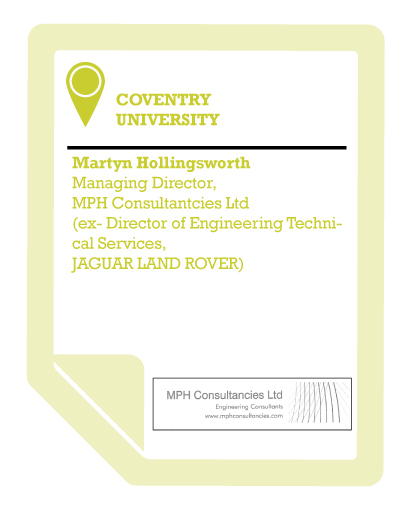 As a significant investor in automotive R&D, Jaguar Land Rover (JLR) employs around 26,000 people across the UK in their Dealerships, Technical Centres and Manufacturing Plants located in the West Midlands and North West of England.  JLR sold over 400,000 vehicles worldwide during 2013 and typically recruit around 300 graduate and 150 apprentice starters each year.
I took my MSc at Coventry University between 1999 and 2002 and the reason JLR were keen to sponsor my degree was that the University was offering a variety of degree courses (business, engineering and manufacturing) that were highly relevant to growing their business and developing the skill base of its present and future employees.  Coventry University also offered a flexible learning programme which was convenient for most employees who were busy balancing work and family lives at the same time.  As an engineer, the learning was configured around the role I had at Jaguar Land Rover and I could immediately apply the theory in a practical way, reinforcing the learning experience in a more 'hands on' way.
After graduating, I have remained associated with the University and go back annually to address the students who attend the Global Business Leaders programme. This allows me to talk about my working experiences in one of the UK's largest manufacturing organisations. I find the contact with Coventry University is very easy and I'm lucky I still know many people who work there today.
I am impressed that Coventry University invests very heavily in engineering. It has recently opened a new 'state of the art' engineering centre which is fantastic and it continues to invest in people and subjects that are relevant to the people in Coventry and the surrounding area. This doesn't surprise me, however, as the Midlands remain at the centre of modern industry in the UK.
Business in the Coventry and Warwickshire area continues to grow strongly and skilled, educated young people provide the lifeblood to their organisations.  The demand from JLR is no different!
Coventry University is a very progressive university, always looking for opportunities to work with industry and the reason I get called back to lecture is because they consider it is important to put the learning into context with business. It's a common sense approach. They are keen to discuss employee professional development and develop courses that suit your business. They don't assume that they know what's best but encourage individual businesses to talk to the University, explain what they're looking for and have courses written exclusively for that business or relevant to that business.
I believe there's an obligation on behalf of employers to use the learning experiences of students and graduates to further their business.  I have applied the learning of my own MSc and the research of my final year thesis many times since I graduated.