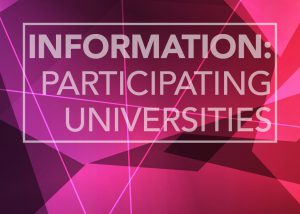 This is a competition with student enterprise education at its heart.
Participating universities are asked to enter teams in this spirit; students with a genuine idea for a new start-up, which requires some enterprise expertise and seed investment to get it off the ground. We therefore expect competitors to be 'pre-trading' but to have a solid idea that they can develop through participation in the competition.
We also expect each university to provide a similar level of support to their teams, which may include:
An assigned mentor
Pitching training / practice
Networking / Communication skills training
Important dates
Monday 16 April: Deadline for entrants to be sent to University Alliance (via participating universities)
Early summer term: Universities run prep activities for their entrants
Thursday 14 June: Enterprise Stars takes place at University of Salford's MediaCityUK campus
---
If you want to pitch your idea at Enterprise Stars 2018, check if your Alliance university has signed up to participate. The list of participating universities and the relevant enterprise lead are listed below.
University of Brighton
Clare Griffiths, Business Development Manager (Entrepreneurship)
University of Central Lancashire
Hugh Roberts, Project Manager – U Start Student & Graduate Enterprise
Coventry University
Donna Preece, Enterprise Programme Manager
University of Greenwich
Mia Abouri, Enterprise Centre Manager, UofG Business School
University of Hertfordshire
Steve Robinson, Enterprise Advisor
Kingston University
Mae Henderson, Events and Marketing Co-ordinator
Liverpool John Moores University
Emma Robinson, Head of Centre for Entrepreneurship
Nottingham Trent University
Phil Clarke, Enterprise Advisor – The Hive
Adam Razzaq, Student Placement
Oxford Brookes University
Lydiah Igewh, Enterprise Support Manager
University of Portsmouth
Carly Hawkins, Enterprise Events Co-ordinator, Nest
University of Salford
Justyna Turner, Enterprise Champion
Teesside University
Steve Dougan, Head of Graduate Enterprise
UWE Bristol
Iheanyi Ibe, Enterprise Advisor