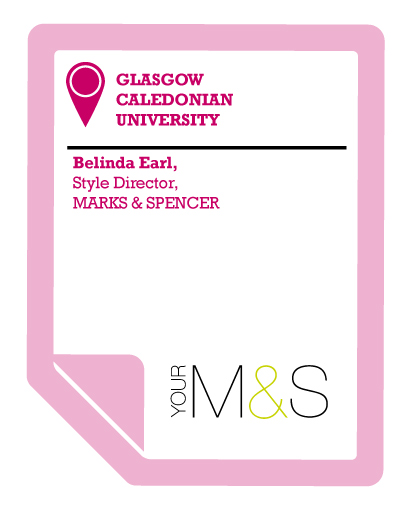 Our business has had a long-standing relationship with Glasgow Caledonian University (GCU) but when the university was thinking of setting up its London campus we became engaged with the key principles behind developing the site. The London campus is very training-driven and focused on developing students at masters level specialising in things like luxury brand marketing and brand development. From M&S' perspective, we identified that the business needed to be a little more 'out there' in terms of understanding trends and working with new, and up-and-coming, designers and techniques and we recognised that the opportunity to co-locate with Glasgow Caledonian University was a good way to drive the business forward.
We now have a dedicated studio at GCU's London campus, which is branded M&S. We've got a great, open plan meeting room and state of the art machinery; we've got a planner, a plotter, tailors dummies, a cutting table and obviously we have the benefit of working with the resources that GCU already holds. The studio is a test bed of design and innovation and it's been where we've created and developed our 'Best of British' campaign. We're working on textile design, print design, not just clothes; we want to be more innovative and directional within the design process.
In our interactions with GCU we have found the University to be open-minded and directional. They want to engage with industry and we've got a formal partnership as well as a great informal relationship. We have set up a continuous programme of support and our first three scholars have started. As part of the programme we pledge to mentor the students and bring them into the business so that they can apply what they've learnt in academia to a real world setting. For us, the programme is about nurturing new talent and developing new techniques as well as investing in developing the skills of the future. It's really about us investing in our future talent. Our scholars have only recently started but so far we have been particularly impressed by their ability and enthusiasm; they obviously have a huge desire and commitment to take their learning to a higher level.
We've learnt a lot from our partnership with GCU. It's interesting that they're bringing students from all over the world and our access to this talent pool is broadening our horizons as a business and making us look at the business from a different perspective.