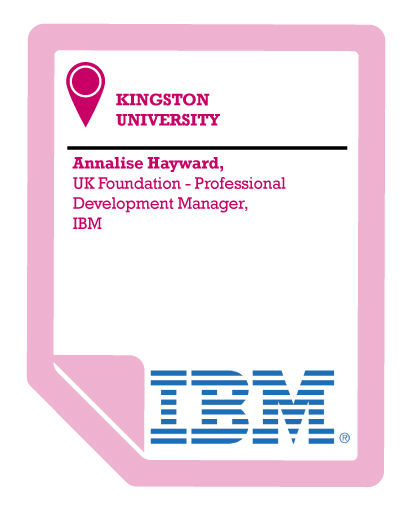 One of the key things people don't realise about us is that we're actually an IT services company. We're not just a hardware and software company. We are hugely services driven. So a huge amount of our business, revenue and graduate hiring is within our services organisation. If I look at our graduate population at the moment about 70% sit within our services department.
IBM does a lot of work with lots of universities. There is a close relationship with Kingston partly because I am an alumnus of there. But Kingston University is also taking a visionary view towards the careers service to make it relevant to students and business and we are particularly interested in this. We've had good quality students come through from the University. The location is an obvious one; one of our main offices is in London so a lot of our opportunities are in London. We wanted to align with a university that is being strategic and innovative in what it's doing and looking at ways to grow the employability of their students. This mission fits with our values on innovation. I have been working with Kingston for about 2-3 years and have become more involved since the Head of the Careers Service introduced more programmes and made me realise this is really worth my time and investment. We want to grow the number of students coming to us from Kingston.
We are engaged with Kingston University in a variety of different ways. I am a member of the careers employability panel with other employers. We are involved in shaping new initiatives, with the business school, including its accreditation. And we regularly attend events, present to students, offer CV advice and placement opportunities.
One of my favourite moments of working with Kingston is their KU Talent Awards. I was involved in choosing the winners last year and attended the event and spoke to students. It was great to see the top calibre Kingston students all in one place. I haven't come across a university doing something like that before. That was really nice to be part of and to see. It's that innovative thing – new and different stuff. That's what I've been so impressed with at Kingston University.