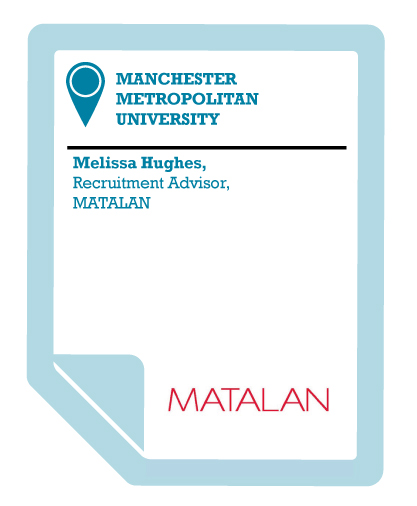 We do a lot of recruitment at graduate level and then grow talent from within the business. Team members in the head office come in and we train them and give them the knowledge and skills they need to move forward in their career. We look at universities across the UK but tend to see the universities in the North West providing most of our employees. We usually take around 70-80 new graduates each year into our office in Skelmersdale.
We were attracted to Manchester Metropolitan University (MMU) because of the courses it offers and we have found that MMU graduates perform really well for us. MMU delivers very good students, with good technical knowledge that they can relate directly to the roles they will be doing with us. We also offer placement opportunities in the third year of their degree and are really happy with those students. They actively encourages us to meet with the students one on one and to deliver presentations to students so they get a bit more out of us and can ask more questions that are more relevant to their degrees.
Allowing us in to do presentations to particular degree subjects really helps. Students don't know where their degree fits within a company or the roles that we offer. We can go in and explain how their degree, for example in buying and merchandising, might apply to a real job. Being allowed into the University to discuss the roles really helps us to get the right, well informed candidates for the right role rather than having to sift through irrelevant degrees. The University is happy to take on board our feedback and do something with it.
We engage with MMU throughout the university lifecycle – from first year students right through to masters and postgraduate. MMU is the only university we have that agreement with. They are very proactive in that they want to get involved and want us to be involved at all levels. We're sponsoring two dissertations this year for the masters students, offering work experience in some of our stores for the students.
Working with MMU enables us to get the right kind of people in our business. That is, employees that understand what the role is and understand what their position in the business is. They are people who want a career in that industry which means they will stay with us a long time, in the long term this keeps our costs down as we can develop them.
Students coming in with no prior knowledge of the role tend not to last. The tutors at MMU understand what our roles are and work hard to get students work experience and make it relevant to what they want to do after university. MMU helps to prepare students and to manage their expectations.
All employers should work with universities. I couldn't praise Manchester Metropolitan enough. They're a university we use all the time, we're in regular contact, a lot of the things they do are free, it's not going to cost you anything at all just to meet with them or go to one of their events but I really can't stress enough how good it has been.
Some people in the business were very set on using people with First Class degrees from certain universities. I did some research about why this was the case and found that our teams came from a diverse range of universities and some great people would never have been recruited if the company had stuck to that rule.