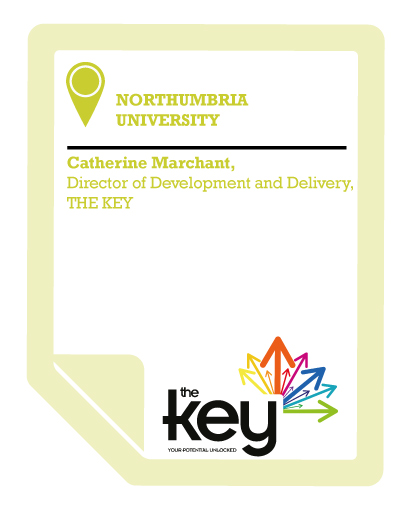 We're a North East based charity working in the community to develop skills and help young people, particularly from disadvantaged areas, to achieve their ambitions. We're a small charity with big ambitions, with 12 current staff.
We began to engage with Northumbria University for a number of reasons. Obviously as a small charity working with young people it's good to have young people within the organisation. But it also resonates with what we're doing, it's good to have their views, ideas and creativity, and working with the University is a great way of accessing great young people.
Engaging with the University also provides us with an opportunity to bring young people in to nurture them. We take students from the business management course on a two-year placement. We like taking students on a longer placement as it gives them more time to get to know the charity, and enables us to train them to be effective and give them a good experience. They come to us on the second year of their course, work for two years and have two blocks of two weeks where they go back to the University and the tutors come into the business to see how everything's working and they have an assessment guide for business skills that they're learning.
The experience is not always about the business supporting the University, Northumbria is always open to having discussions and suggesting ideas, and they make us feel very welcome. They make us feel as if we're part of the University and we're grateful to them for offering support. These relationships have been easier to develop and maintain at Northumbria than perhaps some of the other universities.
The students we've worked with have been phenomenal people. I love that moment when I've given a student some work to get them through the day and within a couple of hours they've come back to me for more work. You underestimate their ability and eagerness to do the work. The whole thing about watching them grow and getting to the point where you want to keep them on, to stay with the company beyond the placement. They've been so good, so enthusiastic and have done a great, great job.
It can take a while to get to know the students, what they're capable of and how far they want to be pushed. But the programme we take students from is a very tough programme, and good at weeding out those not up to the job. The students that come to us are already the ones who are prepared to take on working full time and studying alongside. They come, and they understand the expectations on them.
We see graduates as very good employees. When you get other employees who come in from other organisations, they come with their own views and work and patterns and they have to transition. At Northumbria University we have fresh young people we can embed into the culture of the charity so they become part of the charity.