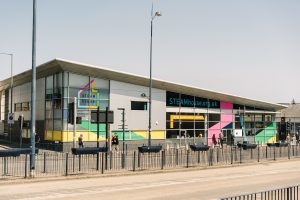 Launched in May 2018, STEAMhouse is Birmingham City University's (BCU) newly created innovation centre aimed at encouraging co-working, collaboration and knowledge exchange between the arts, science, technology, engineering and maths (STEAM) sectors as a platform for supporting long-term sustainable economic growth, productivity and job creation. The aim is to encourage working across disciples, breaking the manufactured divide between arts and STEM subjects.
Created in collaboration with local arts organisation Eastside Projects, and supported by the ERDF and Arts Council England, STEAAMhouse comprises 15,000 sq ft of space dedicated to coworking, experimentation and production.
By June 2019, STEAMhouse had 249 registered members comprised of entrepreneurs and creative practitioners. Examples of new ideas created as a result of interdisciplinary collaboration include HausBots Ltd – a unique solid-state vacuum technology enabling a new robotic approach to commercial painting and decorating; and O'Hare & D'Jafer's moulded marine quality leather wall panels which secured a design award at 2018 Decorex International.
Looking forward, work is now underway on STEAMhouse Phase 2, a project to transform a derelict building on the University's city centre campus into an innovation centre for businesses, artists and academics to collaborate, scheduled to open in September 2021. It will provide state-of-the-art technology, co-working areas and incubation space, commercial units and a 'STEAM Academy' which will support 430 students to develop new learning approaches and partnerships with industry.
The STEAMhouse will also act as a technological hub for the city. Following funding from the European Structural and Investment Funds, Birmingham City University and Eastside Projects, STEAMhouse will now provide access to the latest Virtual, Augmented and Mixed Reality technology, as well as new Digital Circuitry and Digital Design services, alongside a full programme of business support, in the high-tech areas.
In Short:
Since its launch, STEAMhouse has distributed over £67,500 in small grants for IP advice and prototyping support.
It has provided over 6,500 hours of support to small, new and emerging businesses.
It has seen 24 new research collaborations launched
It welcomes around 1,000 visitors per month who access workshops, networking events, and the facilities and expertise available.
For phase 2 BCU has secured Treasury support and Greater Birmingham and Solihull LEP financial backing worth £60 million for the 120,000 sq.ft development.
BCU has also been awarded £3.4 million to create a new virtual reality and cutting edge technology hub at the STEAMhouse site.
Professor Julian Beer, Deputy Vice-Chancellor said of STEAMhouse phase 2: "This is a major step forwards, not just in providing a new home for STEAMhouse, but also in putting STEAM at the heart of our economy. While the region has long been recognised for its strength in industries like manufacturing, embedding the arts within this has a major role to play in underpinning growth in the years to come."
On the funding for the virtual reality hub, he said: "This funding will allow us to provide a new wave of state-of-the-art equipment which will have a major impact on how businesses work in the future and the creation of new industries.
"Incorporating artistry and creativity alongside science and tech disciplines can be a major driving force not just in transforming how a concept goes from design to market, but also the real world difference it will make to users.