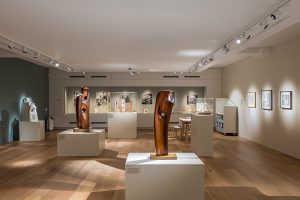 UHArts is the University of Hertfordshire's innovative arts and cultural programme for their students, staff and the regional community. The department played a key role in the realisation of St Albans Museum + Gallery in Hertfordshire.
UHArts led workshops and documents to finalise the building's fit-out, programming and visitor orientation. They secured significant funding from Arts Council England and nurtured partnerships to contribute content to the gallery. Crucially, we worked with the St Albans Museum team on community consultations. The project has made a significant difference to the local community by reinvigorating the Town Hall building; the city centre now pivots on this dynamic arts and cultural hub.
In Short:
The Museum and Gallery opened in June 2018 as a centre of arts and culture.
They welcomed over 100,000 visitors in their opening months alone.
In 2017 UHArts was awarded a three-year contract to lead the visual arts programming at the St Albans Museum + Gallery.
Annabel Lucas, Head of UHArts, commented: "We are delighted with the success of our partnership with St Albans Museum + Gallery. We bring 20 years of exhibition curation expertise to create exhibitions that respond to this unique building, collections and audiences."
An anonymous visitor said:"As long-term residents, we have long thought that the city needed to do more to promote itself – the new museum / gallery does this in spades! We think the overall design, layout is superb! It is really a facility to be proud of."