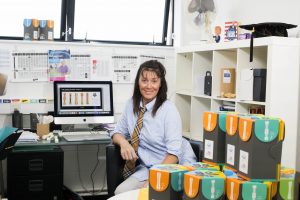 Jane Souyave, Senior Graphic Design Lecturer at the University of Central Lancashire has developed a specialist toolkit to help dementia sufferers called the Fidget Widget. The toolkit was created following extensive market research, highlighting a gap in the care market.Carers often described fidgeting as a negative and disruptive behaviour. The team wanted to create something that would tackle this idea, while, at the same time, creating something engaging that people with dementia could benefit from.
The specially designed widgets, which look like toys, use touch, feel and repetitive movements. Each has a particular motion- spin, slide, twist, turn and roll- removing any need to rely on memory or words to use them.
In Short:
In 2017, there were estimated to be 50 million people living with dementia worldwide.
The Fidget Widget was developed after eight years of research and development.
The toolkit was developed in conjunction with the Alzheimer's Society and Active Minds.
UCLan's Jane Souyave said of the Fidget Widget that it "provides an opportunity for those with advanced dementia to be engaged in meaningful activities that enhance personal wellbeing."
"The results of our product testing, in people's own homes, day centres and Lancashire County Council care homes, confirm that the toolkit supports psychological needs. Users feel occupied, engaged and included in a meaningful activity of their choice. Caregivers also reported that there was an ongoing and lasting well-being effect."
Carol Benabda, a Dementia Support Worker who has worked with people affected by dementia engaging with the Toolkit, said: "It was very much a wow moment, big smiles on faces. A lady with dementia immediately began to interact and engage with the Fidget Widgets – she was laughing with a big smile on her face and spent a long time exploring the tools. The family of a lady told us that when they collected her from the day centre at the end of the day often she was cross but when she had spent some time using the tool she was different. She was happy, and it lasted throughout the evening."