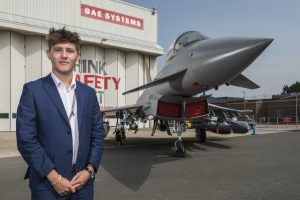 The sky really is the limit for Lewis Brereton after completing his software engineering apprenticeship while working at BAE Systems.
The 21-year-old graduated from a four-year apprenticeship course studying a BEng in Software Engineering with a first-class Honours Degree and has been in full-time employment with the aerospace giant ever since.
Lewis studied two days a week while undertaking a series of work-based placements and he says that the course has given him a 'head start' in the world of work.
He adds: "The degree apprenticeship was an incredibly attractive prospect to me, whilst others around me were applying to study at university full-time.
"The idea of having my degree fully-funded, whilst being paid and working with experts seemed a no-brainer."