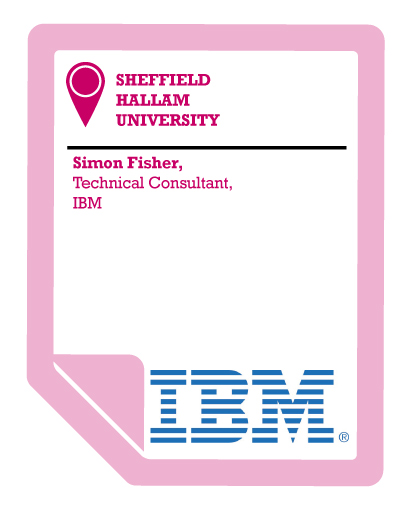 We're a technology services and solutions company. We operate in 170 countries worldwide with about 480,000 employees. Our services range from deep technological solutions to management consultancy and we underpin a lot of technology in a lot of different areas. We have a graduate scheme where we take on about 300 graduates a year into different business lines and we have an industrial placement scheme which is a 12 month placement aimed at sandwich degree students, for a range of different roles – HR, finance, marketing, IT, software development, and pretty much everything technology related.
Our whole aim of working with Sheffield Hallam University (SHU) is to raise the profile of IBM on campus so that people know what we do and that we have schemes to offer. A lot of people don't think of IBM as it's perceived as a computer company. But its remit is much wider. We've interacted with different departments and faculties at SHU such as the business school, arts and humanities and they've been very proactive in setting up events for us, free of charge, to allow us to promote IBM. At events we typically talk about who we are and what we do, but we also run skills workshops to help people write good CVs and hone their interview skills. We help them and they help us, they've been very proactive, really good.
I think a recurring favourite moment is organising an event and me being able to sit at the back and watch SHU students currently on their placement at IBM promote the company to other students. Their presentation skills are really good, they are so good at presenting and selling SHU.
I have been surprised by the proactivity at SHU around getting students on placement. There was no encouragement to get me out and into work at the university I went to.
The great thing about Sheffield Hallam University is that the people we get into IBM on placements and graduate schemes are prepared to work. They have a strong work ethic already, they know about business so there is less of a learning curve, less handholding. It's only a 12 month placement and we want to get them up and running as quickly as possible so both parties can most benefit. SHU students hit the ground running.
All employers should work with SHU. The academic staff and the careers staff are all very proactive in organising events, reaching out to you and suggesting new ideas about how we can work together. The main effort is setting up the initial contact and getting the dates in diaries but it's not a monumental task. And you get so much back.