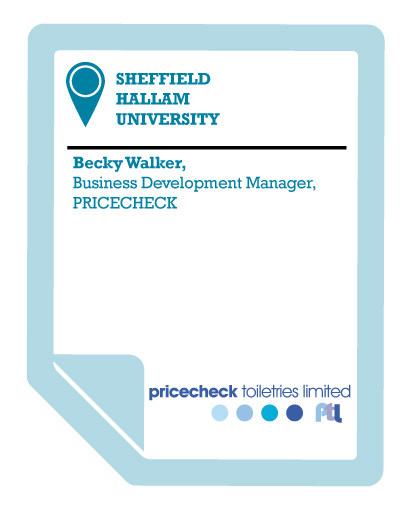 We are a distributer of, predominantly, health and beauty products.
We are a medium sized company based in Sheffield and we believe in harnessing the talents of young graduates in the city – we can bring in these enthusiastic bright, dynamic individuals to the company and they bring something different to the table.
Pricecheck is a family run company so it works really well that we have such a good relationship with the local university.
We've been working with Sheffield Hallam University (SHU) for years. The relationship has developed as it's gone along. I'm a Hallam alumnus who's worked at Pricecheck for 12 years now but when I started the company didn't have much engagement with the University. In the last 5 years we have been using the resources at Sheffield Hallam University in our recruitment and every time we do it I think we get better at it, in terms of communicating what we're looking for and attracting the best candidates to the business.
Sheffield Hallam University is very business-oriented. I do find that they work closer with the graduates and with different schools within the University. They'll speak to the lecturers and then the lecturers will mention it to students, so there is much greater awareness across the university of our opportunities.
We've taken on 10-12 graduates over the last few years. For example we had one graduate who came in to do a sales support role and within less than a year he was promoted. He's very driven, he's not frightened of a challenge, he's just got his teeth into everything and he's progressed so well.
Another is our IT manager who came in and changed how we all work, introduced new systems and just made it much easier and made things possible that we never thought were possible. He's completely changed the way the company works.
Pricecheck allows people to show their natural flair. We invest lots of time, we offer full work shadowing and training but from a very early stage employees are given a lot of responsibility and it's very much on the job training and we review them at 6-12 months depending on their progression. We work with the individual based on their talents and we're able to adapt to best utilise individual skills. We look for socially confident individuals who are good at networking, have good analytical skills, are good communicators and are good at making decisions. These are the essential skills that we look for.
Sometimes the graduates do think they can run before they can walk but to be honest they have to be like that otherwise they wouldn't have the enthusiasm that they need. Sometimes it's reminding them that it does take a while to understand Pricecheck. Most graduates that do come in are very ambitious and hard working. Graduates bring new ideas. There are endless opportunities from working with graduates.
I think the quality of applicants is very good. I think what surprised me is how the Sheffield Hallam graduates are very business aware but that may be to do with what courses they study. The quality of the candidates that do come through are very high. You expect some to be good and you expect some that aren't so good but often we are spoilt for choice in the quality of graduates.
I'd definitely advise organisations to work with Sheffield Hallam because it's just an incredible source of great talent, for any organisation.