University Alliance

>

Teaching Excellence Alliance

>

The TEA Sandpit
The TEA Sandpit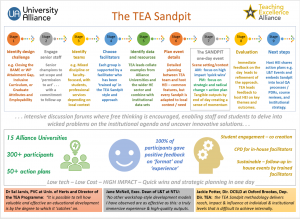 TEA Sandpit poster for SEDA.jpg
Sandpits are an opportunity to come together with colleagues from one or several universities, backgrounds, disciplines and roles to address a complex idea or topic over a short period of time.
Working together in teams, attendees search for answers to a particular question or problem area, finding a number of quick-wins, proposals that are high-impact and easy to implement, before more thoroughly researching and crafting individual longer term solutions.
In the past year, the TEA has run sandpits on…
Programme Design
The BAME Attainment Gap
Employability and Graduate Attributes
Any TEA member can host a sandpit event, contact us to find out more.