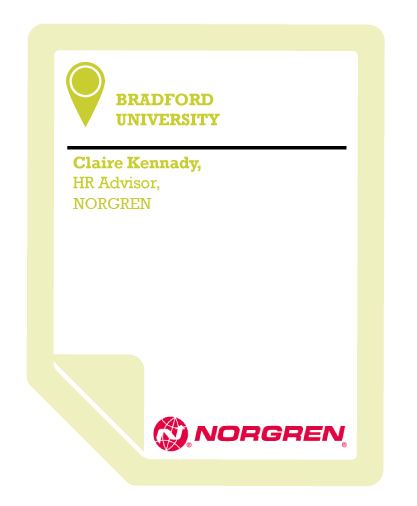 Norgren began as a plumbing merchants and moved into pneumatics – used extensively in industry and factories – in the 1950s. The business now has a £6m annual turnover, designing and manufacturing mechanical valves with built in electronics for all sorts of specialist instrumentation.
Our engagement with the University of Bradford started because we were undertaking a really successful Knowledge Transfer Partnership with the University. A Professor from Bradford had been supervising a student working on the project and as a result our engineers got to know the Professor really well. We found that he understood the problems and opportunities our business was facing and gave us good advice about how Bradford could support us.
We knew that working with the University of Bradford would be positive, universities are good at engaging with businesses where they can but it can be difficult for them to recruit businesses to work with. We didn't know, however, how well the engagement would be organised within the University, how easy it would be to find the right person to talk to, and we have been really impressed. The way the Bradford University team is set up, with contacts across different faculties, makes it very easy to get the information we need.
Where we have offered placements we have been really impressed with the talent we've got through. For example, one student was quite shy when he started with us and by the end he was confidently presenting very technical information to senior management. He also managed to save the company £10,000 through his research and recommendations. The whole company was so impressed.
Bradford students have been enthusiastic and knowledgeable about what we needed. This has been surprising if I'm honest. From previous experience of interviewing entry-level engineering graduates, I found they could sometimes be unprofessional and come unprepared and without the right attitude. But I've been really impressed with University of Bradford students – they turn up in shirt and tie, they've done loads of research and are enthusiastic and knowledgeable, they come with lots of questions and are really polite. I have interviewed lots of people and even some managers who don't come that prepared.
We've gained a lot from having students with us. As a business we can quite often be under resourced. A student can do clearly defined project work that is essential but that would take us a long time if we were to fit it in around the other demands on our engineers and full time staff members. We're not just doing it because it's a nice thing to do for students. We're doing it because it really helps us to deliver on projects.