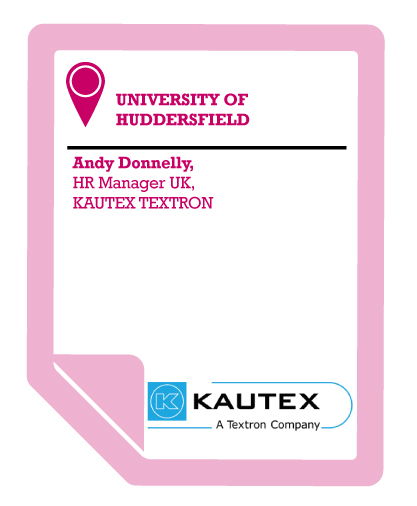 As one top 100 automotive suppliers worldwide we produce and deliver plastic fuel tank systems and other components to major car manufacturers like BMW, VW, Honda, Chrysler and Ford. Since our £1.8bn business expects significant growth over the next three to four years we have a strong focus on recruiting graduates. These are high potential individuals with drive, desire for career development and mobility. We aim to promote them into our organisation and we recognise that, if you recruit the right graduate, the business will thrive.
I got in touch with the University of Huddersfield after they contacted me offering the opportunity to advertise a job. I advertised in week one for the position of a plant buyer (a purchaser), interviewed in week three and the person started in week four. The process could not have been any quicker. That was actually my first experience of recruiting with University of Huddersfield. And the guy who got the job has been with the business for twelve months, now solely responsible for purchasing, and is doing a great job.
We work with a number of universities. However, I have had some good success with Huddersfield. Before I started working with universities I thought that they might not have a sufficient focus on establishing relationships with employers, to facilitate the employers' needs and also graduate needs in helping them to get a job. But my opinion has changed through positive experience. There is a medium out there to enable me to recruit direct from universities, to advertise and get students to respond in a timely way to meet the needs of the business.
Currently we only take graduates but given our positive experience we're now looking at offering placements and internships. If other businesses are not working with a university, they should be doing it because ultimately they're missing out on an opportunity to recruit the best people into the business – those who have long term potential and who can contribute quickly to the operation within the business.