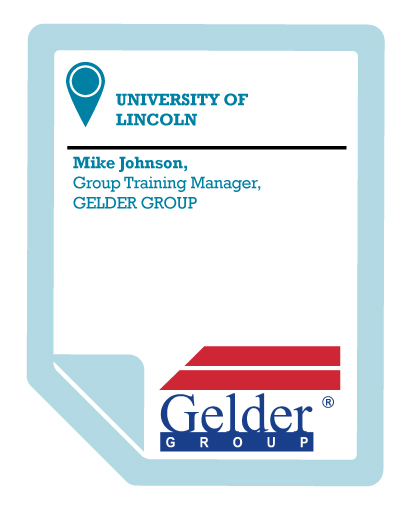 Our heart is construction. We build things, small medium and large, developed in a number of different areas – waste management, heating and ventilation, insurance work. We are part of a national networking scheme.
As we've developed we've taken on more people. Traditionally our workforce has come in as an apprentice and worked their way up. Construction and universities were miles apart. But we've always had a big focus on training people properly and have even set up our own training academy. We got involved in working with universities because we want to attract different people to the group and to raise the company's profile. We need a sales manager, marketing, finance – it's not all about laying bricks.
I got involved personally with the University of Lincoln to open doors to new recruits. We didn't get a huge amount of advice about engaging with the University but an awful lot of people used to ring from there. And it made me think why have we never engaged with graduates? I wanted to make contact with the University and see if we could move it along.
My impression of universities was that it would be really difficult to build links because you were dealing more with academics rather than business people. The other problem was who do you talk to and where? And then how, practically, do you get the university and new recruits involved. I thought it was going to be really difficult.
It was clear from the first engagement with University of Lincoln that they needed my help as much as I needed theirs – to help make their courses relevant to industry and to offer placements and employment to students.
The number one thing that really stands out is that the partnership allows students to apply what they've learnt at university in a practical setting. I've got a lot of satisfaction where we've invited students into the workplace for a 6-9 month programme. Out of the 6 students we have had so far, every one of them has ended up getting the job that they want to get. One went into marketing, one into engineering, one went to JCB, one to IBM, one to accountancy and another to HR.
The business benefits from the students we get on placement. We are kept up to date with modern ways of doing things, so we don't get stuck in our ways. The students we see are hardworking, eager to learn and understand that they have to work their way up. You're also developing the people in the University of Lincoln and helping to develop job prospects within the community.
Over the last two years, we've got involved in a lot of networking and development in the University and, likewise, if there are opportunities for the student to come into the workplace to find out if they would like to work there or in the industry. It's a really good partnership that we've built up between us over the past three-four years.