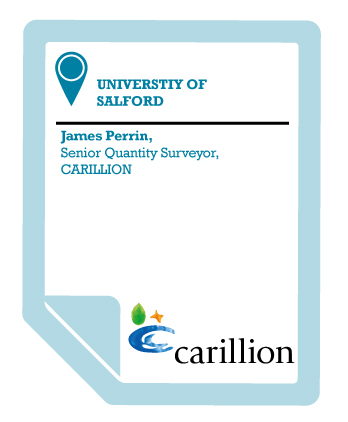 We're an international services company, primarily centred around construction and building but we span all sorts of different industries and employment sectors, from finance to design and build to managing, demolishing and starting again with new buildings. We're UK based but we work globally.
We work with universities to bring fresh new talent into the industry.
I find the University of Salford really easy, proactive, organised and welcoming to work with. We've done site visits, mentoring, we've developed a relationship with the university as well as being able to provide students with experience and to cherry pick some of the graduates when opportunities come along.
I personally thought that universities would be a lot more engaging than they have been. Salford is very engaging but I have found it harder to deal with some of the other universities. Most universities have a good careers department and people that liaise with industry but the careers department and individual teaching departments don't always talk together much. That is not the case at Salford.
I'd definitely recommend working with universities and specifically University of Salford, a good university, with good students and support staff who are really good to deal with. They're certainly top of my list for who I'd recommend. I find it very rewarding, the business has benefited from it and the universities have benefited from it.