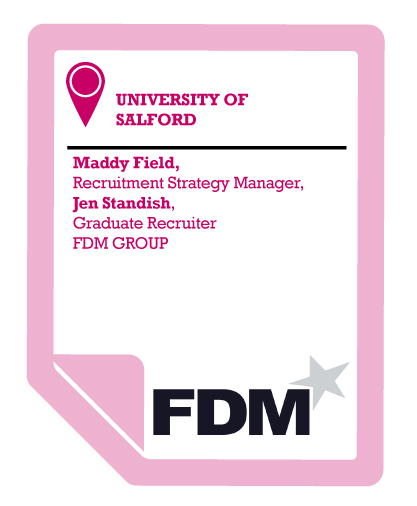 Maddy Field:
We're the largest IT graduate recruiter in the UK. We recruit graduates all year round, we train them in specific IT and then they work for us as consultants on client sites. We currently have over 1,000 consultants working on client sites. We recruit from all universities and don't discriminate on the basis of university brand. We recruit on people's attitude and deliberately avoid all the filters that other graduate employers have because we would miss the best people!
We have an office and training academy in Manchester and the North West and North East is a big growth area for us so we want to be engaging with universities in that area.
I worked at BA for 17 years before FDM and I had no idea what higher education was like. The University of Salford has a two-way conversation with us about everything. For example, if we run an event on campus the careers service follow it up to make sure both parties are getting something out of it. At Salford we've got a whole list of people who have been helpful. We offer mock assessment workshops, send university newsletters to them and post graduation opportunities on the Salford website.
Jen Standish:
We've actually got someone who's going through our training at the moment who is from the University of Salford, she's someone I recruited through meeting her at a careers fair. At the time she had just started a PhD so was not ready to start employment yet but I kept in touch with her and she's now in house with us starting our training. She's reflected really well on the University because she's a really good candidate. She's strong academically and has a relevant degree background but she's also very enthusiastic, kept in touch throughout the whole recruitment process even when studying and she has a passion for working in technology which is something we look for at FDM.
Graduates tend to be very career-focused, it's not just a job, it's about defined career progression, they've gone to study a specific degree and they tend to have that career goal in mind.
Salford is a great university to work with, there's a high calibre of students going through the University, the careers service have been very friendly and helpful and there are some great events to get involved with to recruit top graduates.