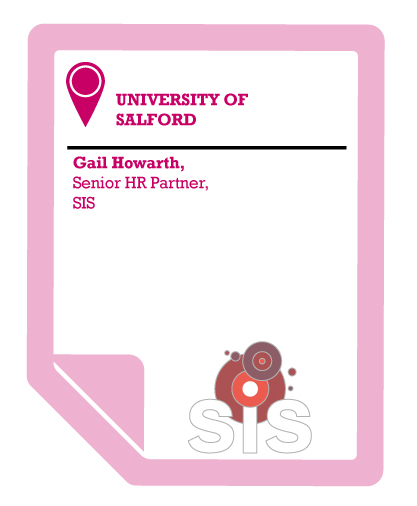 SIS Betting is one of the world's leading suppliers of content, programming, facilities and technology to the betting and gaming industries. Our SIS LIVE business supplies satellite, fibre and associated broadcast services to the broadcast and media markets. We currently have approximately 650 team members, with around 150 based at MediaCityUK in Salford.
We relocated our London operations to MediaCityUK in 2012 and wanted to engage with our new neighbours and other organisations in Salford. University of Salford is co-located at MediaCityUK and that was the introduction, us both being part of a media hub. In terms of our initial consultation we were linked up with a business development manager who signposted us to various people within the University. To be given one point of contact initially was really helpful, as we were advised on what the University could offer and directed to the careers service, placement officers and research contacts. This allowed us to become involved with the research facility as well as the employability side of the University.
I wouldn't have been surprised if communication with the University had been a little disjointed.  There is a perception of the world of academia of Schools working in silos and not understanding the commercial world.  My experience of working with the University of Salford was that it is actually really joined up. Salford's employability team showed great enthusiasm for our business, we invited them to see our operations, conducted a tour and they took a real interest. Salford gave us insights into how they could help us from the very beginning and opened our minds to how we could engage with them, showing us that it was about more than advertising a job for graduates. The initial stuff was brilliant.
We set up a student placement scheme – helping us to identify future talent, and create a talent pipeline for the business, which is now in its second year. We are represented on the University of Salford's IT industry liaison board, which gives us opportunities to input into their curriculum and network with other industry representatives and share knowledge around a scarce technology development  skillset.  We have sponsored student graduate awards and we are members of the Salford University Advantage Board.
Another opportunity we've been offered is to showcase SIS at careers fairs and reach out to the wider population of graduates and undergraduates, so there has been some really broad engagement and promotion, which is really encouraging.
If someone asked me, I would say that there are so many ways to work with universities. You should explore the wider offering – beyond just recruitment or research, it might help you with your employability.