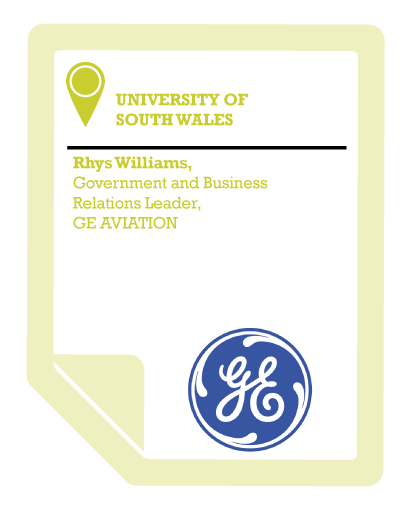 Our company is based just North of Cardiff, a few miles from the University of South Wales. We're a maintenance repair and engineering facility for commercial aircraft engines, with over 90 worldwide customers including Emirates, British Airways, Qatar and easyJet.
We have a strong internship programme for university students – we take on between 50 to 60 interns every year into the support functions of the business – engineering, procurement, IT, communications, finance, HR. The intern programme drives our graduate recruitment. Of these, we'll take on approximately 5-10% and offer them a bursary to complete their studies and then come back to us. Some interns have gone on to management positions.
We work with the University of South Wales because we are looking for top talent. We're a world-class overhaul facility and the only facility in the world that overhauls the GP7200 engine. For us to maintain our competitive advantage we need to be finding and nurturing talent to develop a future pipeline of highly skilled employees. We've been working with the university for 10-15 years. Our intern programme means our recruits can hit the ground running when they join the business. We also partner with the University with a workplace learning scheme to develop existing employees within the business.
The key to working with the university is partnership. We'll host tours for USW students to come onto our site and learn about our business. We give talks at the University and contribute to lectures, giving real world examples and business application for the theory they're learning. The University supports the company by helping to nurture and develop our next intake of students and collaborating with us to ensure they are equipped with the skills and attributes that the business needs.
The facilities the University has developed have been outstanding, unbelievable – they have there are top class. It's important for us as a global business that we have universities of that calibre within the area to support our business and the whole of the Welsh economy.
It doesn't matter what your business is doing or trying to achieve, there are opportunities, both big and small, for businesses to link up with the universities for research or future talent. The intern programme has been hugely successful for us. You just need to start building relationships to maintain and improve your business and competitive advantage.