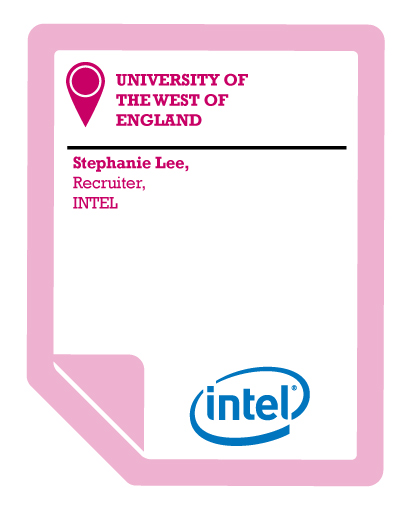 Being a global company we have many challenges. We have sites across the world with different objectives, business practices and languages. We're entering new markets with smart phones and tablets and we're offering an increasingly broad range of products. We have strong values as a company and being a great place to work is a very important one. We offer lots of training and coaching and mentoring. I guess we are a very innovative company looking for talent with bright new ideas. And another fantastic thing about Intel, because we are a global company we have an amazingly diverse workforce, we very much want to attract different ideas and different perspectives.
I think there's a series of reasons why we work with universities. We hire people on experience regardless of where they come from but the University of the West of England (UWE) has been one of our top universities and we hire the most students from there. UWE ticks all of our criteria: they are high ranking, they offer placement support and very relevant degrees. We have had fantastic engagement with UWE over the past 5 years, we've attended all sorts of events, such as CV workshops and offering tips on how to present their applications, events for MBAs where I've gone to judge their presentations, all sorts of long term employer branding activities. We receive value from our relationship with UWE and we get great returns.
In particular, I really like UWE's employer fair. It's probably one of the best in the South West region and works really well – the University is very engaged with us when we send them material they are always very welcoming and helpful and they send us CVs for good placement candidates. Generally speaking, they offer great support and they're always trying to engage with us at every level so that we have a presence on site and so that students understand who we are and what we do.
My experience working with UWE students is they're very mature, very determined and they take on responsibilities. It's been a fantastic experience to know that I can rely on the University's students, that they are effective and can take on projects and tasks and get on with it but still come and ask if they need help. I've been very impressed with the students from the UWE in general.