University Alliance is a non-partisan, non-political organisation working to promote, safeguard and sustain the public benefit delivered by universities on behalf of our members.
University Alliance brings together 24 of the most innovative and enterprising universities in the UK – major institutions combining science and technology with a focus on delivering for the professions, business and the community.
Alliance universities have innovation and enterprise running through everything they do and deliver – the courses they offer; their leading graduate prospects; the impact of their research; how they work with business, the professions and the community; the leading role they play in building regional economies; right down to the way they are run.
Alliance universities are delivering economic and social growth by linking their research, students and staff with the world around them – locally, nationally and internationally. With representation right across the UK they educate over 25% of all UK students, with large proportions of international and post-graduate students.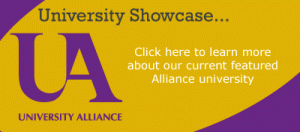 The Alliance in Numbers: