We bring together innovative and entrepreneurial universities from across the UK to tackle the big issues facing universities, people and the economy. Our aim at University Alliance is to help build a strong future for UK universities by creating a constructive and positive space for debate and new ideas.
Alliance universities are leading an innovative approach to creating entrepreneurial learning and research environments in partnership with industry and the professions. Together, they tell a compelling story about the role of universities in equipping people, organisations and communities to create new knowledge and new futures.
Research at Alliance universities forms an essential part of the UK's research and innovation landscape alongside blue-skies research. Over 250 research units across Alliance universities have 4* world-leading research with over 50% of Alliance research in STEM-related areas, often applied to key growth industries.
Alliance universities have a big focus on combining science and technology with design and creative industries. With representation right across the UK they educate over 26% of all UK students, with around 50% of their students on STEM-related courses and large proportions of international and post-graduate students.
Their strong partnerships with industry and professions help ensure students are learning in a real world environment with up to 70% of all courses professionally accredited. Over half of all students enrolled on sandwich courses in the UK are at Alliance universities. Start-ups from Alliance universities generate over half of the turnover of university start-ups.
University Alliance is a non-partisan, non-political organisation working to promote, safeguard and sustain the public benefit delivered by universities on behalf of our members.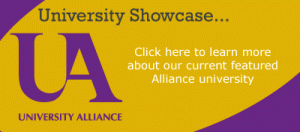 The Alliance in Numbers: