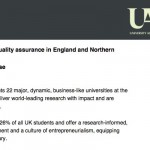 University Alliance represents 22 major, dynamic, business-like universities at the heart of the sector which deliver world-leading research with impact and are actively business-focussed.
These universities educate 26% of all UK students and offer a research-informed, academic learning environment and a culture of entrepreneurialism, equipping graduates for the 21st century.
This response follows discussion amongst our Pro Vice-Chancellors with responsibility for teaching, learning and quality at a University Alliance Quality Seminar held on 18 February 2010. Our response highlights the key issues raised by Alliance universities and is intended to complement the individual and more detailed responses of our members.