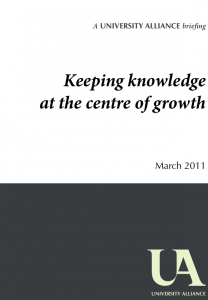 Universities are not just part of a growth strategy, they are central to it. Joining together our university research with business innovation is key to generating business growth and jobs, as well as strengthening the UK's global competitive advantage.
Alliance universities have real expertise in driving economic growth through this approach. These are universities undertaking world-leading research, often in highly rated STEM departments, working closely with industry to generate near-market solutions and starting new businesses.
Harnessing the links and processes that allow knowledge to be shared between universities and business is of critical importance. Technology Innovation Centres will go some way in strengthening these links but they are part of a much bigger picture of joining university research and business innovation.
We urge Government to recognise the value of existing initiatives and infrastructure, in particular Knowledge Transfer Partnerships. Far from being outmoded, KTPs are a proven vehicle for creating innovation and development in businesses, small and large, across the UK economy through a process of knowledge exchange with universities.