This year at University Alliance we ran a design competition for the cover of our Christmas cards. The competition was open to staff and students of Alliance universities. The theme for this year's competition was 'Growth', participants were asked to provide a 50 word summary of how their design fitted this theme.
The winning entry below was designed by Marta Szczygiel a student on the BA (Hons) Interdisciplinary Art and Design course at the University of Huddersfield.
"The growth theme made me think of aiming high so I decided to illustrate big against small. I chose to draw a tiny elf trying to reach the top of the tree to attach the star on it. He would have to grow to achieve his goal"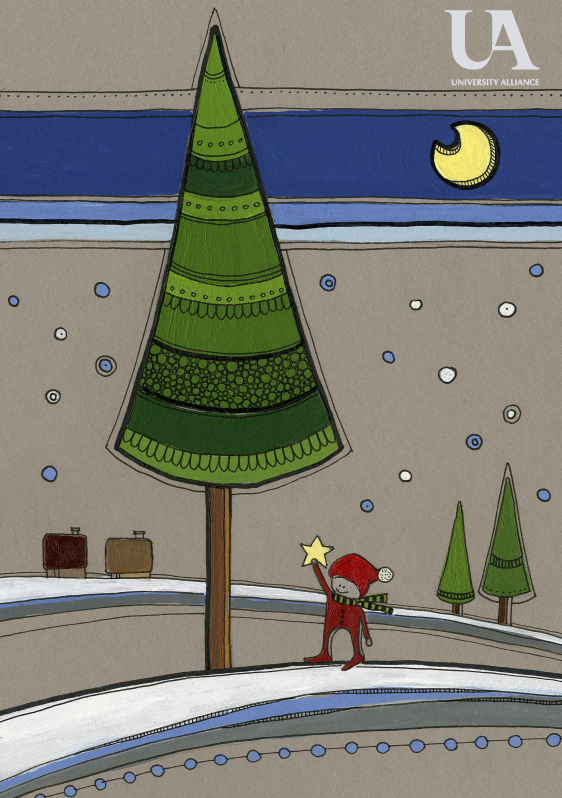 The runners up were:
(click on name to see their design)
Sean Ford, BA (Hons) Graphic Design, Northumbria University
Rachel Lee, freelance Fabric Artist and Illustrator/ BA(hons) in Business Studies, Open University
Claire Spears, BA (Hons) Fine Art, Cardiff Metropolitan University
Ruth Hitchens, BA (Hons) Fine art, Cardiff Metropolitan University
We were really pleased with the quality of all of the entries and would like to thank all of those for contriubting to the success of this competition, it was a really difficult decision!
Merry Christmas!