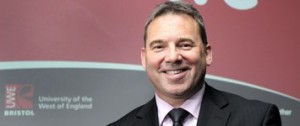 University Alliance has elected Professor Steve West, Vice Chancellor of the University of the West of England, Bristol, as their new Chair. Professor West will take up the three-year position in August 2012, succeeding current chair Janet Beer, Vice-Chancellor of Oxford Brookes University, who has been chair since 2009.
Professor Janet Beer, Vice Chancellor of Oxford Brookes University and chair of University Alliance said:
"I am delighted that Professor West has been elected as the new chair of University Alliance. At a time of major change and economic downturn, it is vitally important for universities to work together in a constructive way, looking for solutions to the big policy questions. At University Alliance we strive to put innovation and enterprise at the core of everything we do. This has allowed us to become a trusted voice, working closely with government and business to advocate a world-leading, enterprising and innovative higher education sector."
Professor Steve West said:
"It is a great honour to be taking up this position next summer, to be representing such an important group of universities at a time of huge change. It is important that in the face of change we continue to focus on the long-term, setting out our vision for a strong, diverse and internationally acclaimed higher education sector. Under Janet's leadership University Alliance has developed a constructive and positive approach to working with key players across Government and the sector. I look forward to continuing in these close-working relationships with government and business to champion our world-leading higher education sector."
The announcement comes at the same time as Kingston University joins University Alliance. Kingston has become the 24th member of University Alliance, a group of universities with a distinct focus on forming close partnerships with business, the professions and their communities.
—End—
Notes to Editors:
Media Contact: Sam Jones, sjones@www.unialliance.ac.uk or 07767673982
About University Alliance
University Alliance is a group of 24 universities offering a distinct student experience shaped by a commitment to delivering world-class research and a culture of enterprise and innovation built on close partnerships with business, the professions and their communities.
Alliance universities educate over 28% of all UK students and achieve some of the highest graduate-level employment rates. Alliance universities offer a research- informed, academic learning environment and a culture of innovation and enterprise, equipping graduates who will help deliver growth to the UK economy. Our universities maintain a revolving door with business to help ensure graduate employers get innovative and thoughtful, professionally accredited graduates with the right skills to help grow their businesses.
Alliance universities: Aberystwyth University, Bournemouth University, University of Bradford, Cardiff Metropolitan University, De Montfort University, University of Glamorgan, Glasgow Caledonian University, University of Hertfordshire, University of Huddersfield, Kingston University, University of Lincoln, Liverpool John Moores University, Manchester Metropolitan University, Northumbria University, Nottingham Trent University, Open University, Oxford Brookes University, Plymouth University, University of Portsmouth, University of Salford, Sheffield Hallam University, Teesside University, University of Wales, Newport, University of the West of England.
Professor Steve West
Professor Steve West became Vice-Chancellor of the University of the West of England, Bristol in May 2008, aged 46.
Professor West trained as a Podiatrist and Podiatric Surgeon in London, working in the NHS and private/commercial sector from 1980. He entered academia in 1984 as a lecturer, then senior lecturer, at The London Foot Hospital and Westminster University. In 1990 he took up post as Associate Dean and Head of Podiatry at Huddersfield University and later became Dean of the School of Health and Behavioural Sciences in 1992.
In 1995 he joined UWE Bristol as Dean of the Faculty of Health and Social Care. In this post he merged three Colleges of Health into a new Faculty, establishing one of the largest Faculties of Health and Social Care in the UK. In this time he also consolidated the delivery of nursing, midwifery, physiotherapy, radiography and occupational therapy, onto three regional campuses.
In 2005 he became Pro Vice-Chancellor at UWE Bristol, with the planning and resources portfolio. In 2006 he became Deputy Vice-Chancellor. He was later appointed Acting Vice-Chancellor in August 2007, and then Vice-Chancellor in 2008.
Research interests
Professor West is a Fellow of the Society of Chiropodists and Podiatrists and a Fellow of the Royal Society of Medicine. He continues to develop his research interest in the Diabetic Foot and holds a number of honorary appointments nationally and internationally.
Civic engagement
Professor West is Vice-Chair and Non Executive Director of the South West Strategic Health Authority, Chair of Universities South West, Treasurer of the University Alliance, a Non Executive Director of the Leadership Foundation, Vice-Chair of the UUK Health Education and Research Network, an Appointed Member of the UUK Health & Social Care Committee and the UUK International & European Policy Committee, and an Appointed Member of the HEFCE Healthcare Education Advisory Committee.
Professor West is also a Member of the Regional Council of The Prince's Trust, a Trustee of the Bristol Urological Institute, a Patron of the Royal West of England Academy, President of the City Academy Bristol, Member of the Bristol Initiative, Member of the Prosperous and Ambitious Board of the Bristol Partnership (Bristol City Council), and Honorary Vice President of the Bristol Oporto Association.