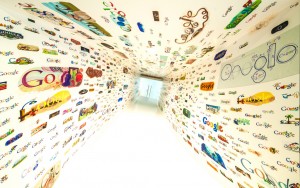 Boston Consulting Group, commissioned by Google, has today published a report, Digital Manifesto, showing the digital economy is set to double by 2016. It is further proof that the digital economy will be a major driver of growth, and in fact will continue to fundamentally change the global economy. So it is difficult to see how this week's announcement about the reduction in university places (particularly on popular, economically relevant courses) makes any sense given the need for more graduates in a digital, knowledge-based economy.
It is nothing new that the internet is changing everything. The way we do business, learn and interact with one another is increasingly dictated by digital developments. But what is remarkable about this new research is the scale and pace of this change within developing and emerging countries. The report says that nearly half of the world's population will be online by 2016, with access to the internet becoming less of a luxury, limited to users in the developed world and more of an everyday reality in emerging economies.
The challenges and opportunities this creates for the UK are huge. Traditional business models and ways of working need to quickly adapt and respond to both technological advances and the opening up of access to global customers. Paul Zwillenberg of BCG says that entrepreneurs building a digital business are outperforming rivals who do not embrace the web.
The UK must ensure it maintains its position as global leaders in innovative, high-tech business. Currently the UK's internet economy is larger than in any other country. It is forecast to grow 10% per year for the next four years and contribute 10% of UK's GDP by 2015.
Our leaders, from Government, industry and academia, need to agree and set out a clear strategy for how we do this. Addressing leaders at Davos, Parick Pichete, Google's chief financial officer, said:
"Understanding the economic potential of the web should be an urgent priority for leaders… [with] a powerful case for countries and companies to get online and reap the rewards of an age of data".
Government needs to build on the momentum it has created this year in securing and sustaining the UK's position as leaders in the global, digital economy. We had Universities Minister, David Willetts' speech on hi-tech growth. And then yesterday's announcement from the Technology Strategy Board about the new Connected Digital Economy Catapult technology and innovation centre.
But at the same time, Government needs to explain how reducing university places, and ultimately the number of graduates coming out of our higher education system, fits within this economic vision. Our global competitors are increasing the number of graduates in the workforce to grow their capacity for economic growth. Emerging economies get this; India, for example, wants to more than double the size of its university system to become a "knowledge powerhouse", increasing the country's student population from 12 million to over 30 million. And it is not just in the fast-growing, tiger economies but right across Europe, the US and Australia Governments are undertaking ambitious strategies to ensure they will have sufficient high-level skills to grow their economies once again. In a recent speech on EU higher education policy Barroso said:
"We see in Europe the number of skilled jobs outnumbering the supply of students with higher education qualifications. While 35 per cent of all jobs in the EU will require high-level qualification by 2020, only 26 per cent of the workforce currently has a higher education qualification."
Clearly Government plays a critical role here (especially while it holds the reins on student numbers), but the higher education sector must stand up to this challenge too. Our aim at University Alliance is to open up dialogue between universities, Government and business to tackle these challenges. As a higher education sector we need to work with business to identify and deliver the capabilities required in a growing digital economy, and to highlight where Government intervention is required. Alliance universities have a rich heritage in this approach. Many formed in the 19th Century to respond to the skills needed in the then changing and growing industrial economy. We are working closely as partners in the Big Innovation Centre, who are exploring many of these issues. But beyond this we need to take the lead and look at the bigger questions facing our sector if we are going to be fit for purpose and able to deliver the knowledge framework needed to remain global leaders in the digital economy.
It is time for thought leaders across the political, business, academic and charity worlds to work together, think long term about how we remain global leaders and ensure that we have the knowledge and capability in place so to reap the rewards of the digital age.