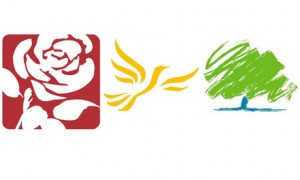 For the first ever time we ran our Party Conference events in partnership with five other sector bodies under the brand Bright Britain. This was to send a united and powerful message, as a sector, that universities are key players in building a prosperous and fair society and economy in the UK.
The partner organisations were 1994 Group, GuildHE, NUS, QAA, Universities UK and University Alliance. The events were run with the support of The Guardian (Liberal Democrat and Labour Conferences) and SMF (Conservative Party Conference).
Outside of official events, we used the conferences as an opportunity to meet with key MPs, and sector individuals, as well as running a high-level workshop with a number of key Labour figures.
The key messages during the events were on the role universities are playing to drive economic growth. We wanted to dig deep into this issue and find out how politicians would ensure that the sector remain competitive, especially in the light of funding restrictions and changes to immigration policy.
For University Alliance, we also used these conferences to commutate our vision for a more sustainable way of funding higher education. Our proposals will be launched in early summer 2014 and you can find some more information here.
Below are some highlights from each of our events.
Liberal Democrat Party Conference, Glasgow
Universities and Growth: The debate, Michael White, Assistant Editor, The Guardian (Chair); Rt Hon Vince Cable MP, Secretary of State for Business, Innovation and Skills, John Longworth, Director General, British Chambers of Commerce and Shami Chakrabarti, Director, Liberty and Chancellor, Oxford Brookes University.
This was the first time a major political party conference has taken place in Scotland. We had a great welcome and successfully showcased the fantastic work being done by universities in Strathclyde.
A big focus of our event was on how changes to immigration policies were impacting on universities ability to help to UK economy. Vince Cable, the Secretary of State for Business, Innovation and Skills, said that the number of international students in universities has fallen sharply because they do not feel welcome. John Longworth agreed that overseas students were valuable to the UK economy saying, "We need to attract the brightest from around the world." He also said that if our children and grandchildren are to afford a high quality of public services like the NHS and welfare we need to build up the economy now.
Shami Chakrabarti, Chancellor of Oxford Brookes University, used the platform to champion the huge diversity in higher education and highlighted the contribution that her university is making to the UK economy. Pointing to the high employability rate amongst graduates she said, "Nine out of 10 graduates still get jobs within three years of leaving college. It works politically, constitutionally democratically and economically as well."
Labour Party Conference, Brighton
Universities and Growth: The debate, Larry Elliot, Economics Editor, The Guardian (Chair); Shabana Mahmood MP, Shadow Minister of State for Universities and Science; Dame Helen Alexander, Chancellor, University of Southampton and John Cridland, Director General, CBI, Paul Blomfield MP
Our fringe event at Labour Party Conference was standing room only and demonstrated the huge interest in the higher education sector amongst Labour members and other organisations.
Although billed as an opportunity to unveil new policies, little new detail emerged on higher education at this week's Labour Party conference. Our event focussed on the contribution that universities in Brighton are making to the economy and proved a fantastic opportunity to showcase our diverse sector.
A large focus of the event was on university and business collaboration. Dame Helen Alexander, Chancellor of the University of Southampton said that we are "seeing good partnerships but need consistent policy on university-business collaboration."  While she felt collaboration between universities and industry was needed, she warned that a successful partnership does not simply happen overnight.
John Cridland, from CBI warned that some UK universities may risk closure and calls for more collaboration between universities. Lord Wilfred Stevenson, a Labour peer standing in on the panel for Shabana Mahmood, the party's shadow universities and science minister, said although consolidation is "possibly quite likely", it would be "very sad if it was caused by an imperfect market following a theory which I think is not credited".
John Cridland finished off the event by saying that he "wanted people to go away with any message that (the CBI) want a more flexible system that offers more opportunities for more students to be in business."
Conservative Party Conference, Manchester
Universities and Growth: The debate, Mary Ann Sieghart, Chair of the Social Market Foundation (Chair); Rt Hon David Willetts MP, Minister of State for Universities and Science, and John Longworth, Director General, British Chambers of Commerce
Our events at Conservative Conference, hosted by Policy Exchange, were our final of the conference season. This event highlighted the huge contribution that universities in Manchester are making to the economy, a staggering £3 billion per year.
David Willets, Minister of State for Universities and Science, used the opportunity to prove more information on his two announcements made at Party Conference. They were 1) A £200 million fund for teaching infrastructure, focused on science and engineering in universities and 2) a relaxation of the rules which prevent part-time students from accessing fee loans if they already have a first degree. The Minister also welcomed the 'Bright Britain' partnership which he believed was the 'right step forward'.
Professor John Brooks, Vice-Chancellor of Manchester Metropolitan University, appealed to the Minister to ensure some stability in the HE sector after a series of changes experienced in the last few years. He also made a passionate defence of graduates saying that data increasingly shows that "employers are not graduate ready." This was in response to Jon Longworth, from BCC, who called for universities to do more to make graduates "work ready."
Toni Pearce, the new NUS President, finished off the event with her thoughts on what should be included in the Conservative manifesto. Her first priority was a sustainable funding system, followed by a removal of international students from net migration figures. We fully support these calls and will be lobbying David Willetts on these issues in the lead up to 2015.
Overall, we are extremely pleased with our events at all three party conferences. Our partnership with other organisations was welcomed by all and we hope to continue this partnership in the future. Next year's Party Conferences will be the final conferences before the 2015 General Election. We will be working closely with our Board and also Alliance universities to ensure that these events are able to highlight the amazing work that is being done at our institutions.